An emerging software company downtown is moving to bigger digs, bolstering the Wholesale District vicinity as a haven for information technology workers.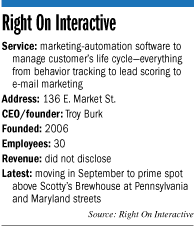 Right On Interactive next month plans to move its 30 employees from 5,000 square feet at 136 E. Market St. to about 7,000 square feet on the second floor of Allen Plaza, the luxury condo complex at 1 Virginia Ave.

Right On, a marketing automation software firm that until recently was known as 5 Buckets, will occupy the prime suite above Scotty's Brewhouse.

Right On will be across Pennsylvania Street from the Century Building offices of e-mail marketing giant ExactTarget, which employs hundreds of people at three buildings throughout downtown.

The vicinity of Pennsylvania and Maryland Streets is already bustling during evening events at Bankers Life Fieldhouse. But the invasion of young tech workers, some wearing backpacks to work as if just plucked from a college campus, has been a boon to beer gardens sprouting on the ground floor of the Century Building.

The establishments' outdoor seating has swallowed nearly the entire width of the sidewalk along Pennsylvania Street and can be packed during the lunch hour.

Burk
Right On Interactive founder and CEO Troy Burk said he's mindful of the upbeat dynamic of the vicinity. He said it can't hurt in recruiting new workers and in making a good impression on clients.

His new space above Scotty's has a commanding view of the plaza below from a balcony with a small putting green. Inside, the offices are a combination of old brick and modern wall panels, with a ceiling high enough to fly a Cessna 162.

"It's a great place to connect … It has to be the coolest space downtown," added Burk, who likes to show the still-empty space to job prospects. He insists on showing off a fitness center in the basement that employees can use.

Around the country, tech companies have been increasingly moving into urban settings and out of the suburbs. Even some firms in Silicon Valley, from towns such as Mountain View, Calif., have been moving into urban spaces in San Francisco proper.

"There's something about the vibrancy of downtown that's hard to quantify," said Frank Dale, CEO of Compendium Software, a few blocks away at 55 Monument Circle.

Downtown techies like Dale cite the central location as easier for visitors to find and good for access to other tech companies. Many times he's walked down the street to collaborate with someone at ExactTarget or at nearby digital management firm Raidious, along Meridian Street.

Downtown, he said, is attractive to his young employees.

"They're typically young, single. They want to go to the bars after work. They want to go to concerts," said Dale.

"Location is a part of a bigger point of focus, which is that of culture. IT companies are focused on creating a culture that is attractive to prospective employees across all levels of employment," said Jim Jay, CEO of the statewide tech partnership TechPoint.

But Jay noted that Indianapolis tech firms run the gamut as far as location preferences. There are big companies that need lots of space and prefer suburbs, such as Interactive Intelligence, along Interstate 465 on the northwest-side.

Other tech entities, such as DeveloperTown, tout the hip culture of Broad Ripple.

"I can tell you that we do see location as a point of differentiation when attracting talent," said John Wechsler, a partner in DeveloperTown.

"Tech companies are competing in a very competitive hiring environment and are seeking every advantage they can gain in attracting and retaining talented workforce," Jay said.

Like many a software company, though, Burk's started out of his home.

For his first employees, the office was his basement. "My kids would play Thomas the train under their feet," he recalled.

Back then it was known as 5 Buckets, and Carmel-based Conseco, now CNO Financial, was the first big client. Burk's company devised ways to measure how well agents representing Conseco's products were engaged with customers.

The software platform evolved to better help clients identify sales opportunities throughout the lifecycle of the customer relationship. It assigns a score to the amount of interaction the customer has with a company, such as to what degree he or she downloads whitepapers or product pricing.

The extent to which the customer is engaged is depicted on a visual map of sorts, allowing a company's sales teams to pursue the most promising prospects to drive sales.

Right On also has built e-mail marketing into its platform and other tools to reach out to customers.

The company now has nearly 400 customers, including faucet maker Delta and HVAC maker Carrier. Burk declined to disclose annual sales.•