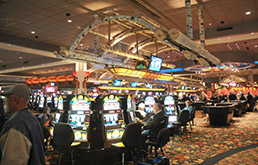 The Pokagon band's Four Winds Casino in New Buffalo, Mich., competes with Blue Chip Casino in Michigan City. The tribe is looking to establish a land base in South Bend. (AP photo)
A tribal casino planned for northern Indiana could deal a serious blow to established competitors, as well as to an important source of state tax revenue.
The Pokagon Band of Potawatomi Indians' plans for 164 acres in South Bend are also years from fruition, giving state lawmakers—and the next governor—plenty of time to respond.
The plans came to light in late August, after the Bureau of Indian Affairs filed a notice of its intent to begin environmental studies as part of its determination of whether to take the land into trust. If that happens, the land would come off the tax rolls, and the band could negotiate a compact with the state on a casino offering slot machines and table games.
"This is going to be a dominant property, and it's going to be a dominant property that's not going to have to pay state taxes," said Ed Feigenbaum, publisher of the Indiana Gaming Insight newsletter. "Obviously, from their perspective it's a great idea."
Feigenbaum predicts the Pokagon development would go over well in South Bend, which would benefit from the construction and casino jobs.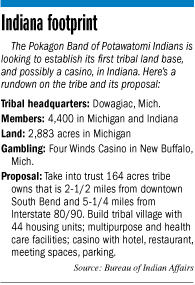 But state officials might be more inclined to protect Indiana's 13 riverboat and racetrack casinos, which generated $614 million in wagering taxes last fiscal year. The casinos are a major source of revenue, behind sales, individual and corporate income.
"It certainly raised my eyebrow, caused a great deal of concern and instantly inspired feelings of opposition," said state Rep. Scott Pelath, D-Michigan City.
Pelath's district includes the Blue Chip Casino in Michigan City, which lost business after the Pokagon opened Four Winds Casino in New Buffalo, Mich., five years ago.
Approval lies in the hands of the Bureau of Indian Affairs, which won't necessarily agree to take the land into trust, said Gabe Galanda, a partner in Galanda Broadman, a Seattle law firm that specializes in tribal interests. Even if the tribe does clear that first hurdle, the decision will be open to legal challenges for six years, he said.
Separately, the tribe would have to negotiate a compact with the state of Indiana about the gambling operation. Tribal casinos aren't subject to state licensing requirements or taxes, though they usually pay a fee in lieu of taxes under the negotiated compacts.
Even without a new casino off the tax rolls, the gambling industry in Indiana faces a challenging future. Last year, state wagering tax revenue was down 6.9 percent, from $660 million in 2011. State budget forecasters predict it will fall another 7.7 percent, to $567 million, by next year.
The forecast is driven by new competition in Ohio and potential competition in Kentucky and Illinois.
Indiana dodged a major bullet last month when Illinois Gov. Pat Quinn vetoed a bill that would have put a land-based casino in Chicago, allowed slots at horse tracks, and established riverboat casinos.
So far, Hoosier lawmakers haven't moved to give the industry tax breaks or loosen regulations to bolster its competitiveness in the state. Sen. Luke Kenley, R-Noblesville and chairman of the Senate appropriations committee, has said it isn't worth the social costs to expanding gambling in the state.
Wagering taxes are a leading source of revenue, but they amount to less than 5 percent of the state's $14 billion general fund. Overall, lawmakers are enjoying the comfort of structural budget surplus and a $2.1 billion reserve fund.
Republican gubernatorial candidate Mike Pence opposes any expansion of gambling, and he wants to see more money spent helping problem gamblers, Feigenbaum said.
It's unclear, though, how Pence would deal with a tribal casino. His campaign did not respond to IBJ requests for comment.
Democratic candidate John Gregg would oppose the Pokagon casino.
"In John's view, there are sufficient gaming opportunities in that part of the state," Communications Director Daniel Altman said in an e-mailed statement. "Indiana faces very real and stiff competition from bordering states [and] we do not need to add to that competition."
John Ketzenberger, president of the Indiana Fiscal Policy Institute, said tribal gambling would prompt politicians to make changes that would protect the established industry. New forms of gambling could be added, and licenses could be moved from one market to another, he said.
"While it's not the thing that keeps them up at night now, it could be if they lose another 10, 20 percent of tax revenue from increased competition," Ketzenberger said.
The Michigan-based Pokagon have come a long way since gaining federal recognition in 1994, but their bid to create the first tribal land in Indiana is no slam dunk, said Galanda, the tribal lawyer.
"All told, this is a five- to 15-year proposition," he said.
Galanda added that he's never heard of a tribe developing a casino across state lines on newly acquired trust land.
Even if the Pokagon failed to build a casino, the possibility is bound to make other northwestern Indiana casino owners think twice about future investments, Pelath said. Blue Chip, which had lost about 30 percent of its business to Four Winds, gained some of it back after adding a 20-story hotel tower and rebuilding its river platform, he noted.
The Pokagon's land-development plans are not specific. Broadly, the band wants to establish a tribal village with 44 housing units; multipurpose and health care facilities; plus a casino with hotel, meeting space and parking garage. The site is 2-1/2 miles from downtown South Bend and about five miles from Interstate 80/90.
Pokagon Chairman Matt Wesaw was not available for comment, but, according to a prepared statement, the band is seeking to provide better housing, jobs and other services for its 500 members in Indiana.
The tribe has a total of 4,400 members in Indiana and Michigan, and it has placed 2,883 acres of Michigan land into trust.•
Please enable JavaScript to view this content.