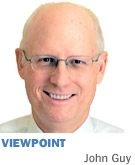 In the following words, a friend implies that I love government: "I feel you believe in much more reliance on government, and I prefer free markets."
My reaction: Not really!
"I do not believe," he said, "that [governments of] developed countries have provided [our] great standard of living. I feel that it is the people working hard and being creative that have provided this standard of living."
The free enterprise system has released incredible productive and creative resources inherent in the American character, but government has assisted in developing those characteristics. It has invested in services of immense value.
For example:
How many creative and productive resources have been released by public funding of our space program and public support for scientific resources? Individuals do it, but the public underwrites.
When I leave my home, my tires ride atop pavement and pavement repairs implemented by government (but, commonly, the work is done by private companies).
The several hundred thousand dollars of health care expense incurred by my mother was paid by government, as was the birth of one grandchild when the parents had no resources—none.
My favorite radio station, WFYI-FM 90.1, experiences no disagreements or interference with its assigned frequencies because a federal agency levels the playing field.
This newspaper arrives reliably at my home through the federal postal system.
A fine intellectual repository, the Indianapolis-Marion County Public Library, is developed and built by government, as are the prominent sports facilities, including not only Lucas Oil Stadium and Bankers Life Fieldhouse, but various sites used by amateur baseball, soccer and tennis players.
A substantial portion of my growth took place while serving in the Peace Corps (and my friend learned about leadership while serving in the U.S. Army).
As an Indianapolis Red Cross volunteer, I have witnessed the fine work of our government-supported firefighters.
National parks and their rangers, as well as the Indiana Department of Natural Resources and the many state parks it operates, and the professionals who work there, give access to the outdoors, to recreation and to opportunities to learn.
A significant problem of flooding in our neighborhood was studied and treated by agencies of the city and state, using, in part, money from the federal government.
My friend resides on a reservoir that was planned and built by the Army Corps of Engineers, giving him a venue for his favorite recreational opportunity, and the land was converted to public use by the state's power of eminent domain.
My friend might argue that every service listed above could have been more efficiently and less expensively achieved by "free enterprise," (which, I presume, means private business). He could be right. We will never know, because the major efforts of our nation develop over time—some private, some public—and no one I know can document whether the approach taken was best.
My belief is that interest groups work freely, within our democratic and capitalist systems, to request these public services. Private organizations could have done them, but did not.
Rather than frame our differences in ideological terms, with he being "conservative" and I "liberal," I prefer to believe that I am open to any free-enterprise solution, while not resisting innovation from general societal resources.
Government is a friend. Not an enemy.•
__________
Guy is an Indianapolis money manager, certified financial planner and president of Wealth Planning & Management LLC. He is the author of "Middle Man, A Broker's Tale." Send comments on this column to [email protected].
Please enable JavaScript to view this content.