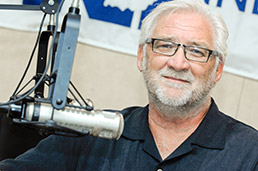 Bob Lovell's sports-talk show has one of the biggest statewide radio listening audiences. (IBJ Photo/ Perry Reichanadter)
Though he's been the only host of "Indiana Sports Talk" since it hit the radio airwaves in 1994, Bob Lovell insists he's not the star of the statewide show that advertisers and listeners have warmed to after a slow start.
"This show is all about the games," Lovell said. "The scores are the stars."
Scott Uecker, who helped launch the show, disagrees.
"Bob is incredibly talented," said Uecker, communications instructor at the University of Indianapolis and general manager of public station WICR-FM 88.7. "He has the perfect personality to do the show. Without him, I don't think it would have survived this long."
"Indiana Sports Talk" is the only statewide syndicated radio show focusing on high school sports—with a little college fare added in. It airs Fridays and Saturdays August through May from 9:30 p.m. to midnight, featuring a constant stream of statewide scores, with Lovell conducting a bevy of rapid-fire interviews with coaches and athletic directors from across the state. Its primary focus is football and basketball.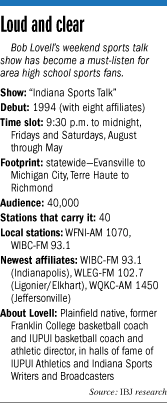 Uecker, who was Network Indiana director of news and operations when the show launched, sat down over lunch with Lovell 18 years ago, and the two sketched out the idea for "Indiana Sports Talk" on the back of a napkin.
Network Indiana primarily produces spot news and features for radio stations statewide, but in the mid 1990s was making a push to launch regular weekly radio programs for sale to the stations that subscribed to its service.
Lovell was pitching a more traditional call-in sports show. Uecker had another idea.
Advertisers weren't initially convinced.
"Nobody would return my calls," said Lovell, who made some of the initial pitches.
Radio stations weren't much more receptive.
"Stations in the south would say, 'Why would my listeners care about teams and games in the north?' and vice versa," Lovell said. "And a lot of stations thought the show would be too Indianapolis-centric."
Lovell tried to explain that the show was aimed at sports fans as they exited high school football and basketball games.
"I knew high school sports fans would care about the teams not in their area because they might see them in the regional or at state," Lovell said.
Those arguments fell on mostly deaf ears. So the show was launched on eight stations in August 1994, with an audience of 8,000 on a good night.
But Lovell, who has a master's degree in English from Butler University, had a couple of things going for him.
"He didn't know radio," Uecker said. "We had to teach him that. But he knew sports, and he could speak. So we were halfway there."
Lovell had another valuable commodity that helped the show grow—connections. The 61-year-old Plainfield native was a three-sport star in high school and played basketball and baseball at Franklin College.
He coached Franklin College's basketball team from 1977 to 1981 and IUPUI's team from 1982 to 1994. He was inducted into the IUPUI athletics hall of fame in 1996.
"I've coached and recruited the entire state, so I'm familiar with it," Lovell said. "I understand what sports mean to the people of Indiana."
Lovell immediately had the respect of area coaches, and they called into his show in droves.
"It was important that this wasn't another listener call-in show with a lot of people and the host just sitting around giving their opinions," Uecker said. "We wanted to offer scores and expert analysis from people inside the games."
In many ways, the show was ahead of its time. In the mid 1990s, few radio stations aired high school sports—certainly not beyond games. And though it launched before ESPN Radio existed, it has a format similar to ESPN's "Game Night" programs.
After the first football season, Network Indiana signed eight more affiliates for the show. The next fall, eight more stations added the show to their lineups, bringing the number of affiliates to 24.
Seventeen years later, the show is still growing, adding three affiliates this fall. It is now heard on 40 stations statewide, with an audience of more than 40,000, according to officials for Network Indiana, which was bought by Emmis Communications Corp. in 1998.
The show features 35 minutes of advertising. Affiliates get to sell 17 of those minutes and Network Indiana gets 18 minutes. Though Network Indiana officials wouldn't say how much a 30-second spot on the show cost, media buyers said local sports cost $20 to $40, while statewide spots can sell from $80 to more than $120.
"We've found the distribution of the show is a perfect match for our business," said Kurt Hunt, director of marketing for Tom Raper RV, a statewide seller of recreational vehicles. "There are few other shows like this that knit the whole state together and have such a loyal audience."
Locally, the station airs on Emmis-owned WFNI-AM 1070 and WIBC-FM 93.1.
David Wood, program director for WFNI and WIBC, calls ad sales for the show "brisk."
"We've found the show has good reach in the 35-to-54 age group, which is a key demographic for advertisers," Wood said.
Colleges, health care and sports medicine operations and other companies trying to reach student-athletes and their parents and coaches are common advertisers, Wood said.
Uecker still marvels at the longevity of the show.
"It's survived a mass media revolution with the advent of the Internet and proliferation of things like mobile devices," he said. "You can now get scores on Twitter. But this is the only place you can get insight from coaches statewide. And it's the only place you can get someone like Bob pulling it all together."
Lovell, too, is a survivor. He had a near-fatal heart attack in 2005. He is fully recovered now, spending about 30 hours a week researching, producing and hosting the show.
For his efforts, he was inducted into the Indiana Sportswriters and Sportscasters Hall of Fame in 2011.
"With Bob hosting it, I knew the show was going to be good," Uecker said. "It turned out even better than I thought. Much better than a sketch on a napkin would indicate."•
Please enable JavaScript to view this content.