Dean Peterson recalls looking over the Lake Sullivan Sports Complex—anchored by the Major Taylor Velodrome—15 months ago.

Marian University, where Peterson teaches and coaches cycling, had just agreed to take over the then-29-year-old facility.

"There was a lot of work to do," Peterson said. "I mean a lot of work."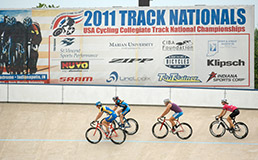 Marian University's cycling team speeds past a 2011 banner during a recent practice. (IBJ photo/Perry Reichanadter)
Paint was peeling, the roof was failing, and head-high weeds had overrun the once-renowned BMX course adjacent to the stadium.

The parking lot, which filled with fans filing in to watch the 1982 National Sports Festival, 1987 Pan Am Games and various national championships that followed in the 1990s, was pocked with potholes and patches of weeds.

Restoring the 41-acre complex to its former glory seemed almost insurmountable. That's why city officials put out a bid last year for private operators to take over the aging facility about 400 yards from Marian's front door near West 38th Street and Interstate 65.

There wasn't much interest. After all, the city had been running the place at a $70,000 annual deficit in recent years. In the end, Marian beat out one other bidder.

But Marian is not foreign to long odds. The Catholic school with an enrollment of just more than 2,000 has won more cycling national championships than any other college. Most have larger enrollments and more resources.

"We know it's a big mountain to scale," Peterson said of Marian's velodrome reclamation project. "But we think we're up to the challenge. We have a vision for what this facility can mean not just for Marian, but the entire community."

Peterson
Peterson knows better than most what the velodrome can be. He was beginning to climb the ranks of competitive cyclists when the velodrome was built in 1982. The 1988 Purdue University graduate raced there often during its halcyon days.

"It was one of the very best tracks in the country, in the top five," Peterson said. "It was buzzing with activity. We think it can get there again."

Marian officials have plans to turn the complex at 3649 Cold Spring Road into the home of Olympic trials and a local fitness and transportation hub with wide appeal for children and adults.

Peterson thinks the operations deficit can be erased by year three of Marian's 15-year pact with the city.

By all accounts, the overhaul is ahead of schedule.

The college has invested $350,000 in capital improvements ranging from new roofing, windows and paint to improved seating and lighting. The BMX course has been rebuilt and an off-road course for the growing sport of cyclocross has been constructed.

Marian officials also pulled together heavy-hitters such as Eli Lilly and Co. Inc., Keep Indianapolis Beautiful and The Eugene and Marilyn Glick Family Foundation to enlist more than 5,000 volunteer hours of help.
IBJ.COM EXTRA
For a look at the velodrome's milestones,
CLICK HERE
A beer tent and food vendors have been added, and prize purses for races have grown. The result has been a more-than-20-percent increase in race participation, an increase in spectators from almost none to around 300 for Friday night races, and a 25-percent boost in concession revenue, Peterson said.

And more is planned. The track itself will be resealed and striped next month, and there are plans for a press box and an electronic scoring system—a first for the track that this year celebrated its 30th anniversary.

Walking trails have been added to the grounds, and a circuit road cycling course is in the works.

"We're just getting started," Peterson said. "We have a lot of work left to do and a lot of plans on the drawing board."

Clearly, though, much more than city officials could have imagined doing themselves has already been done.

New corporate sponsors include Matthews Bicycles, The Bike Line, Nuvo Newsweekly, Central Indiana Community Foundation, Ratio Architects, Sun King Brewery, Klipsch Audio Technologies and St. Vincent Sports Performance.

Marian also has formed a citizens advisory board to help guide the facility's direction.

"The board is a well-rounded, resourceful group, filled with doctors, lawyers and local business owners," said board member Nancy Parent, owner of Indianapolis-based Matthews Bicycles.

City officials said if they had to pay for everything Marian is promising over the first 10 years of the deal, taxpayers would be on the hook for at least $2 million.

"Marian is taking care of a lot of capital improvements that the city simply couldn't have afforded to do," said Jen Pittman, IndyParks deputy director. "And they have the [cycling] expertise to make sure this facility gets utilized to its fullest."

Not a cash cow

In the contract's first 10 years, Marian covers all the costs and keeps all revenue. The city gets 10 percent of revenue over $250,000 the last five years.

"It's never going to be a cash cow, but we think this can be a viable venue that supports itself and brings events and valuable programming that promotes health and wellness to central Indiana," Peterson said.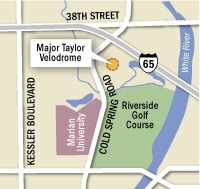 In December, the complex will host the Ohio Valley Cyclocross Championships, which is expected to draw 400 competitors.

Next summer, the velodrome will host the U.S. Masters Track National Championships, the first non-collegiate national championship at the local venue in eight years.

"The Masters National brings a very attractive demographic to the city," Peterson said. "They usually travel with their families and stay several days."

Glory days to disrepair

From 1982 to 2000, the velodrome, named for a famous Hoosier cyclist of the 1890s and early 1900s, hosted 10 U.S. Cycling Federation-sanctioned national championship events. Olympians such as Nelson Vails and Erin Hartwell trained and competed at the track regularly.

The skate park and BMX track, built a couple of years after the main track, also were popular. The Central Indiana Bicycling Association for years hosted one of its biggest annual rides—The Night Ride—at the complex.

But the BMX track became weed-choked and unusable. While the main track remained in reasonably good shape, surrounding infrastructure deteriorated. The Night Ride moved to a downtown location in 2010.

Allison Melangton, the 2012 Super Bowl Host Committee president who took over as Indiana Sports Corp. president this month, said she is enthused by what she sees at the velodrome.

"We really like what Marian has done there, and having that venue helps keep Indianapolis at the forefront in terms of hosting a variety of sporting events," Melangton said. "Losing a venue is never a good thing for our mission."

Building a fan base

Before the ISC might consider luring an Olympic trials or other world-class event to the velodrome, Melangton said, "we'd have to gauge the popularity of cycling in this community."

She said the strength of central Indiana's swimming community is one reason events at the IUPUI Natatorium are so successful, and the cycling community must demonstrate similar support.

"Marian could be in a good position to help build that base," Melangton said.



To do that, Peterson is fortifying community and youth programs at the complex. The velodrome's website lists times the track is open to the public. Special track bikes can be rented for $10 and lessons are available to make sure riders can safely navigate the track's 27-degree banking.

"Kids can come out here, rent a bike, get instruction, and ride on the track for a couple of hours for $10," Peterson said.

His staff is rolling out free cyclocross lessons this month, and has plans for other community outreach programs.

"We want to dispel the myth that this is a Marian facility," Peterson said. "What we're doing is for the entire community."

Marian is relying on a handful of its staffers—including Peterson—to help run the track.

"We're all stretching our job titles to make this work," Peterson said.

Marian uses six to eight paid part-time student interns, but a key part of the effort is using 20 to 50 volunteers from the school's cycling team.

"All of our cycling team members are required to volunteer," Peterson said. "We think this facility is an important part of our neighborhood and it's important that we all work to make it a success."

With the reopening of the BMX course in July—including new lighting and rewiring for a timing and scoring system, Marian is starting a collegiate BMX team. Peterson said those team members will be instrumental in helping area youths get started in BMX racing, which was recently added as an Olympic sport.

Long range, Marian officials hope to make the Lake Sullivan Sports Complex an alternative transportation hub as well as a cycling and fitness center.

"With the proximity of greenways, bike trails and bus routes, we think this facility has tremendous potential," Peterson said. "Realizing that potential goes way beyond cycling."•