More and more, political discourse in the United States dictates that one side is purely good and the other purely evil. Thankfully, our theaters are more sophisticated—and more entertaining—than our political commentators.
Witness, for example, three recently opened shows that entertainingly explore the good in the bad and the bad in the good.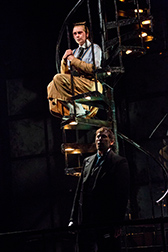 Dr. Jekyll (Ryan Artzberger) is haunted by one of many Mr. Hydes at the Indiana Repertory Theatre. (Photo/Zach Rosing)
First, the obvious: The Indiana Repertory Theatre's production of "Dr. Jekyll & Mr. Hyde" (running through Sept. 30). As with the original Robert Louis Stevenson novel—and its numerous film and theater adaptations— playwright Jeffrey Hatcher's version concerns a doc's efforts to separate the good and bad in human nature, using himself as a guinea pig.
Ryan Artzberger plays a solid, searching Jekyll. But rather than have the same actor play Hyde, the alter ego is handled by multiple actors, depending on who isn't covering another part in the scene. When it doesn't quite work, it feels like just a theatrical convenience. But when it does work, it allows us to witness Jekyll's horror at his own (as Hyde) actions and for multiple Hydes to give us some idea of what the torment is like in Jekyll's head.
The original novel had little in the way of female characters, and adaptations of the material tend to, for good reason, flesh out those roles. Here, much of the power of the ending depends on our believing that chambermaid Elizabeth truly loves Hyde. Unfortunately, bold-but-not-successful casting, costuming and hair choices turn what could be a tough, vulnerable, street-smart, full-bodied character into a series of inconsistencies. Elizabeth could pass for the coolest woman at GenCon, but doesn't fit into the rest of the production.
Still, the stage centerpiece—a spiral staircase that conveniently resembles a strand of DNA—is a hint that, rather than just an evening of cheap thrills,
this production aims to go a little deeper. And it does, making "Dr. Jekyll & Mr. Hyde" a marked improvement over last year's IRT season-opening would-be thriller "Dracula."
__________
I'm not sure Mr. Hyde himself could square off against Mama Rose and win. The stage mother of all stage mothers, Rose is a horror Robert Louis Stevenson couldn't have dreamed up: a shameless, single-minded, utensil-stealing, bulldozing bully insensitive to the feelings and needs of those who love her.
In order for a production of "Gypsy" to work, we have to be both drawn to Rose and repulsed by her. We have to understand both why boyfriend Herbie sticks around and why daughter June leaves. We have to be unable to imagine how anyone could want to be with her after the pathetic end-of-act-one display … then completely understand, early in act two, why they do stay with her.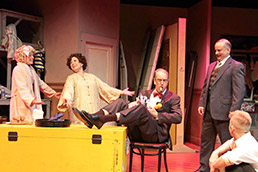 Alexandra Young (Dainty June), Judy Fitzgerald (Rose), Jeff Stockberger (Mr. Goldstone), Paul Hansen (Herbie), and David Michael Cress (Yonkers) praise their new vaudeville booking in "Mr. Goldstone," from Actors Theatre of Indiana's "Gypsy." (Photo/Julie Curry)
Actors Theatre of Indiana's production (running through Sept. 30) doesn't bring much new to the table of this classic. It's got a solid Rose in Judy Fitzgerald, a worthy Herbie in Paul Hansen, and an appealing group of kids for the cheesy vaudeville numbers. What it lacks is a vision. Scenes and songs play, but characters often don't seem to be in the same show. And while the compact Studio Theatre isn't a liability, it isn't an asset, either. Rather than affording the chance to see "Gypsy" cast in a new, up-close-and-personal light, it's simply "Gypsy" in a small space and on a tight budget.
Still, it's "Gypsy," with the magical harmonic convergence of never-better Jule Styne music; Stephen Sondheim's playful, character-driven lyrics; and Arthur Laurents' smart, rich book. A good production is good enough.
__________
Meanwhile, at Beef & Boards Dinner Theatre, one of the few successful musicals with unredeemed, despicable characters is getting a sturdy revival.
"Chicago" centers on a pair of murderers with unquenchable hunger for fame and attention. Why do we care about them? In large part because of a knockout Kander and Ebb score and solid dancing. Here, the leads are fine, too. Deb Wims, whom I previously knew primarily as a dancer, starts off overly cartoony but ultimately gets the role right by giving us a Roxy who need not be all that likable nor the center of the show. Curt Dale Clark is a bland Billy Flynn, but Marisa Rivera effectively captures the arrogant desperation of Velma Kelly. Eddie Curry is suitably ordinary as milquetoast Amos.
And then there's Mama Morton.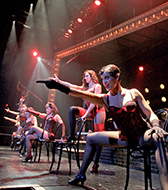 The six merry murderesses of the Cook County Jail perform the "Cell Block Tango," in Beef & Boards Dinner Theatre's production of "Chicago." (Photo courtesy of Beef & Boards Dinner Theatre)
The opportunistic prison matron is a supporting part, to be sure, but Alene Robertson manages to make the most of it while never hogging the spotlight. Hilarious even before she speaks a word and savoring every line once she does chime in, Robertson makes "When You're Good to Mama" and "Class" two of the show's highlights. (If only B&B's lackluster summer production of "Nunsense" had her to spruce it up.) Here's hoping we'll see her on area stages again soon.•
__________
This column appears weekly. Send information on upcoming arts and entertainment events to lharry@ibj.com.
Please enable JavaScript to view this content.