Maribeth Smith's introduction to the world of event planning sure was a doozy—coordinating the city's first significant Final Four in 1991.

In the 20 years since, Smith has planned some of Indianapolis' biggest soirees, highlighted this year by several events surrounding the Super Bowl, which helped cement her status as one of the city's leading meeting planners.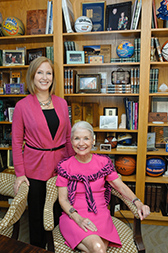 Maribeth Smith, seated, and Ellen Saul will team up to coordinate about 40 events this year. (IBJ Photo/ Perry Reichanadter)
Yet Smith and her small staff at the downtown-based Maribeth Smith & Associates Inc. coordinate most any gathering, regardless of the size or client, with one exception—weddings, nixed early on to instead focus on corporate events.

"It takes time to build a reputation," said Smith, 70. "If people want to work with you, then your business grows. It's as simple as that."

Indeed, Smith has managed to grow revenue 40 percent the past five years despite tough economic conditions, though she declined to be more specific.

Since her involvement in that first Final Four, in which Duke University beat the University of Kansas 72-65, she's coordinated three more of the events (1997, 2000 and 2006) that cap off March Madness. In addition, she planned a 2007 Indianapolis Colts ceremony in which team officials awarded players their Super Bowl rings.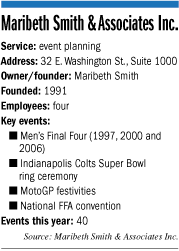 For this year's Super Bowl in Indianapolis, Smith's firm planned a National Football League owners' meeting and coordinated activities at The Huddle, an NFL-sponsored venue that occupied the former Nordstrom space in Circle Centre mall.

Her attention to detail, among other attributes, have made Maribeth Smith & Associates the Colts' go-to event planner, said Pete Ward, the team's chief operating officer.

"Whenever we've had a large or important event, where we knew we had to hit a home run, we've turned to Maribeth," Ward said. "She's the first person we think of."

Smith's résumé also includes not-for-profit entities such as the Girl Scouts of Central Indiana, National FFA Organization and the American Association of Museums, just to name a few.

But Smith cut her teeth on sports, specifically college basketball.

The Ohio native served as special event coordinator for the city of Indianapolis under former mayor William Hudnut, who lured the Colts to the city in 1984 and was striving to build it into a convention destination.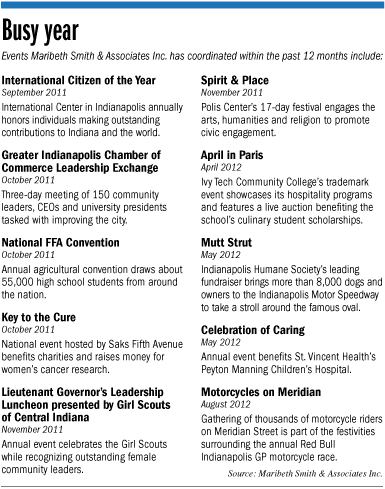 David Frick, a deputy mayor under Hudnut and former managing partner of what is now law firm Faegre Baker Daniels, recruited Smith to coordinate the men's Final Four in 1991, the first time the city hosted the event and grew it to include several ancillary festivities. Smith's experience coordinating a National League of Cities event for Hudnut helped her land the Final Four.

The college basketball championship was played once before in Indianapolis, at Market Square Arena in 1980. But the Final Four was less of a spectacle then. Hosting the games at the RCA Dome 11 years later, along with all their trimmings, would catapult Indianapolis to elite status among Final Four cities. Indianapolis since has hosted four more, with Smith playing integral roles in three of them.

Frick sang Smith's praises by referring to her as an "event-planner extraordinaire."

"We took that minor activity that the organizing committee did in 1980 and built it into a tremendous welcome for the team, the fans, and made the event much like it is today," he recalled. "That was a pretty big responsibility that Maribeth had, and she did an excellent job."

With that experience under her belt, and Hudnut's choosing not to run for a fifth term in 1992, Smith ventured out on her own and formed Maribeth Smith & Associates. Her first hire was Ellen Saul, whom she met during her tenure as a member of the Capital Improvement Board, which operates the Indiana Convention Center and the city's pro-sports venues.

Smith was helping celebrate an expansion in 1993 of the convention center, where Saul served as special services and public information manager for the convention center and RCA Dome.

Saul approached Smith about hiring her. A year later, when Saul was contemplating a move to Boston, she again broached the subject with Smith, who brought her on board. Saul has been with Smith ever since and is now president of the four-employee company.

At the time of Saul's arrival in 1994, the firm had just two contracts, with Sister Cities International for a convention and with Indianapolis Downtown Inc. for a six-month celebration marking the opening of Circle Centre mall.

"These were the years that we would worry so much about where the next business would come from," said Saul, 47. "We didn't have a lot of repeat events. We had to work hard at cultivating that."

Some of that repeat business includes hosting seven National FFA conventions through a contract with Visit Indy, formerly the Indiana Convention & Visitors Association. Attracting 55,000 youngsters from across the country, the convention is one of the city's largest. It will be held in October before starting a three-year run in Louisville next year.

"They have special-event planning down to a science," Visit Indy spokesman Chris Gahl said of Smith and her staff. "And it stems from having events like the Final Four, the FFA and the NFL owners' party."

All told, Maribeth Smith & Associates will coordinate about 40 events this year, many of which take months to plan.

"I kind of bristle at, 'Oh, you're a party planner,'" Smith said. "It's not all we do. There's so much more that goes into it."•