More than 40 years have passed since Indianapolis embarked on a comprehensive overhaul of rules governing commercial and residential development.

That last zoning effort—coinciding with the arrival of Unigov in 1969—took a decidedly suburban approach. The county had plenty of undeveloped tracts of land and a then-just-10-year-old Interstate 465.

So it's perhaps no surprise that the rules paid tribute to the car. The one-size-fits-all zoning approach—covering everything from urban neighborhoods to agricultural land—favored large parking lots, retail buildings set back from roads and sprawling, inefficient housing developments.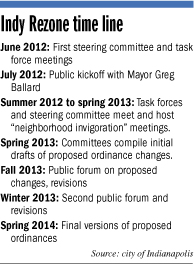 The consequences: fewer households over which to spread the cost of building and maintaining infrastructure, including roads and utilities. During the 1990s in Marion County, developed acreage increased 43 percent and the population rose only 7.9 percent, city data show.

City officials now hope to repeal and replace the zoning code with an approach that pays tribute to sustainability, density and mass transit. The $2 million Indy Rezone effort, paid for in large part by a federal grant, calls for an overhaul of city zoning ordinances and dozens of other related development regulations including those governing signs, parking and well fields.

City planners have made edits to the rules over the years and approved hundreds of variances encouraging a more urban-minded, density-friendly

approach to growth. But there are only so many ways to adapt a 40-year-old zoning ordinance, and many of those edits over the years now make it difficult to interpret what's allowed and what is not.

"We want to make it easy for people to do the right thing," said Tammara Tracy, a principal planner with the city who is serving as project manager for Indy Rezone. "We need to get away from a one-size-fits-all approach—and the one size we have is the suburban size."

The two-year plan calls for copious amounts of public input, work by six task forces, and three neighborhood-specific zoning studies looking at: the East 10th Street corridor; an area between 16th and 25th streets between Cornell Avenue and Dr. Andrew J. Brown Avenue; and the vicinity of the Hanna Avenue and Shelby Street intersection near the University of Indianapolis on the south side.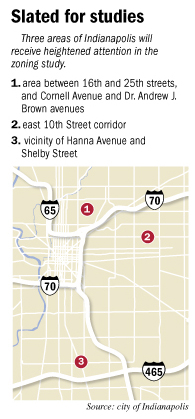 The overarching goal is to simplify the process of development review and approval, clearing out decades of piecemeal fixes and the need for sustainable modern developments to secure numerous variances, said Abbe Hohmann, a local real estate broker who co-chairs the Indy Rezone steering committee with Michael Bricker, founder of People for Urban Progress, a local not-for-profit that promotes public transit, environmental awareness and urban design.

"That doesn't mean unrigorous standards," Hohmann added. "You want something that is simple and user-friendly and reflects the 21st century in terms of types of development."

Goals include livability, accessibility, public transit and density.

Bricker said the steering committee—which has 31 members including the president and minority leader of the City-County Council and representatives of the arts, public safety, architecture, engineering and health care industries, among others—brings a lot of perspectives to the table and should be a good filter for the public input process.

Some know the code as it stands today, and others like Bricker just know the city.

"It doesn't mean we're trying to turn our city into New York City," he said. "We're trying to help Indianapolis be a better version of itself."

If done well, the effort should help the city maximize its growth potential and tax base, said Sam Smith, principal in the local office of Seattle-based Colliers International.

Together with infrastructure investments and incentives to encourage development, a more progressive zoning code could help investment-starved areas catch up, he said.

"It's something cities should do regularly," he said of the zoning code updates. "It's just a necessary piece of the puzzle."

Mike Higbee, president of locally based DC Development Group and a former director of the Department of Metropolitan Development, said a 45-unit senior community he developed required 11 variances, primarily to allow for a higher level of density.

The rules are simply behind the times, he said at the IBJ Commercial Real Estate and Construction Power Breakfast on Sept. 13.

"What we are seeing now as we get more density in Marion County—those are some of the most popular places to live and for retail," Higbee said.

More types of housing is one of the chief goals of Indy Rezone, which "builds" toward a transit system that would support more dense nodes of development around stops, Tracy said.

"Our current ordinances basically give you two options: detached single-family or suburban apartment complex," she said. "We would like to see more options, and strategic increases in density."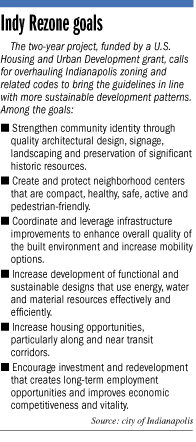 The six task forces are looking at residential development, non-residential development, parking and streets, signs, processes and administration, and wellfield and flood management.

Tracy noted the city's mining ordinance hasn't been touched since 1965, back when gravel pits were far from population centers.

The process and administration committee will look at ways to "break silos of decision making" to help provide developers with a more predictable regulatory environment. Another possibility: incentives for "green"-oriented projects.
IBJ.COM EXTRA
For a look at an example of outdated zoning,
click here
One charge for the signage task force is developing rules tailored to particular areas, unlike the current regulations, which don't distinguish between a suburban shopping center and a more urban neighborhood.

Indy Rezone will not address much-newer design and development regulations that cover the Central Business District. It also excludes the rules governing wireless towers, billboards and the district surrounding the Indianapolis International Airport.

"You can only bite off so much," Tracy said. "We will get to those. We wanted to hit the biggest bunch right up front."

The city is underwriting the effort with $1.2 million from a planning grant from the U.S. Department of Housing and Urban Development as part of a program that awarded 43 municipalities out of 583 applicants.

Only six cities, including Indianapolis and Cincinnati, are using grant money to amend zoning ordinances. The city has to come up with 40 percent of the total as a match, a requirement it plans to meet by dedicating staff time to the project.•