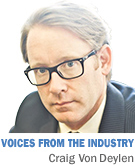 What most people consider Fountain Square is actually a combination of three neighborhoods: Fountain Square, Fletcher Place and Holy Rosary. In 2005, I started working on my first project in this area, and it has changed the direction of my professional path in just about every way possible.
My first project in the neighborhood, a historic reuse of a century-old community center, taught me that an urban community is exactly that, a community. A diverse combination of people who live and work there and who want their community to be better.
They have specific ideas of how that should happen. I learned to listen to them. I didn't always agree with them, but I found their ideas often made mine better.
That being said, any vision I have for Fountain Square is actually a "stone soup" of what I have learned from all the folks who were already there, and what my colleagues and I believe we need to do to create positive growth in the area.
We've been pretty successful. If you want to see how successful, come to Fountain Square on the first Friday evening of any given month and check it out, or for that matter just about any lunchtime or weekend evening.
We want to attract everyone to Fountain Square. We want anyone who comes here to feel comfortable visiting our neighborhoods. We want it to be a place where anyone can come and enjoy a show, shop, see some fantastic art, work for a great company, or have a drink and eat a great meal. We also want it to be a place where you can live affordably.
What does not fit our vision for Fountain Square is the inclusion of too many national chains. We want our neighborhoods, from a business standpoint, to be a place that is primarily Indianapolis. By encouraging small local businesses, we can make Fountain Square unlike any other place in this world. Fountain Square can become a place that showcases the best of the local creative culture in the arts as well as business.
We're off to a good start, and now we hope to take it to an even higher level.
The main reason Fountain Square has flourished through one of the worst economies ever is the people who were here working hard to make these three neighborhoods the best ones in Indianapolis. Folks like Doug and Jeff Litsey, who run Calvin Fletcher Coffee Shop; Linton and Fern Calvert of the Fountain Square Theater Building; Brett Canaday and Tia Agnew of New Day Meadery; Mike McCormick, a certified public accountant; and urban pioneers like Bill Taft, Philip Campbell and Jeff Miller, our City-County Council representative.
Behind them are business owners and residents too numerous to list who have been quietly guiding and encouraging the activities here, and who will continue to work hard in the background to make sure our little part of town just continues to get better.
Finally, what will help drive our progress is the built environment. Fountain Square is blessed to have large mixed-use buildings and the Cultural Trail, which give us vibrant, walkable blocks that can be filled with shops and restaurants.
I recently returned from a trip to Rome and Florence, Italy. I was struck by what could only be described as the organic nature of those ancient cities.
We can ignore it, but the truth is we are all still humans, and we have to plan our communities around what we can reach on our own two feet first. We can then integrate other types of transportation into that concept.
With mixed-use projects in Fountain Square, we are heading that direction. It's easy for developers today to forsake urban concepts like storefront retail, because there just aren't investors interested in that type of development.
I hope we can reject projects that will not contribute to active streets.•
__________
Von Deylen is in charge of development for Deylen Realty, a partner in Blackline Studio for Architecture, and president of the Fountain Square Merchants Association. Views expressed here are the writer's.
 
Please enable JavaScript to view this content.