During better times, Indiana Rail Road's terminal south of Lucas Oil Stadium regularly rumbled with the sounds of lumber, trusses and structural steel being loaded between trains and trucks.

Then, four years ago, the building boom and the rest of the economy derailed.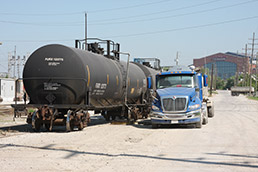 Recycled oil is transferred between rail tanker and truck at Indiana Rail Road's Senate Avenue yard. The sluggish economy all but shut down the yard, but prospects are picking up, thanks to a partnership with a Canadian logistics provider. (Photo courtesy of The Indiana Rail Road Co.)
"We just basically closed down the facility," said Thomas G. Hoback, president and CEO of Indianapolis-based Indiana Rail Road.

INRD has reactivated the yard through a partnership with Canada-based Arrow Transportation Systems. The Vancouver, British Columbia-based logistics company serves about a dozen of INRD's customers at the yard.

Moreover, the railroad plans to team with Arrow on another so-called trans-load facility that could open in the Daviess County town of Odon by year's end.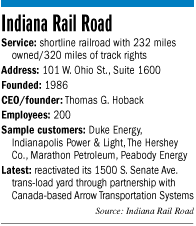 Trans-load facilities transfer cargo between train and truck or vice versa. It's a way to connect with a train without a customer's needing a rail siding at his facility.

Trans-loading is in contrast to an intermodal facility, such as CSX's giant yard in Avon. There, the containers carrying the cargo are transferred between train and truck, instead of the cargo itself.

While intermodal facilities tend to be gigantic operations, smaller trans-load yards, such as INRD's, still present plenty of economic development opportunities.

For example, one downstate company that makes underlayment for hardwood floors has expressed interest in shipping the product to the planned Odon facility. From there, the underlayment could be shipped by train to Western states where the home-building market is doing better.

"They really want to get into new housing markets out West, in California and Arizona," Hoback said. "[Rail] allows them to be competitive in markets they couldn't get to because truck rates were uncompetitive."

High diesel fuel prices and labor shortages have made longer truck hauls too costly for some shippers. Curiously, also potentially playing into trans-load's favor, is that some trucking firms actually would prefer shipping shorter distances because short routes can have higher margins, said David Holt, vice president of operations and business development at logistics industry group Conexus Indiana.

Hoback declined to identify customers using the downtown trans-load yard, but goods include plastic resins, clay used in automotive brake shoes, and used oil to be recycled. The transfer can be as simple as a tanker truck running a line to a train tank car.

But Arrow, having for years supported Canadian Pacific's rail operations, has turned the Indianapolis yard into a manufacturing operation, as well.

Some of the 20 employees at the yard take hardwood planks shipped from downstate and assemble them into wooden mats that prevent oil/gas drilling equipment from sinking into the mud.

INRD then ships the mats to oil- and gas-producing regions, like tar sand fields in North Dakota and shale gas fields in Pennsylvania.

INRD's Senate Avenue trans-load facility becomes just the third in the United States for Arrow, which also operates such facilities in Portland, Ore., and Tacoma, Wash. The local facility gives Arrow access to business in the upper Ohio River region.

Arrow has long served Canada's railroads and handles such goods as forest products and paper.

INRD's future Odon yard will be about 1-1/2 miles from the new Interstate 69 being built between Evansville and Bloomington under current funding, and someday to Indianapolis.

Odon—and nearby Crane—is the farthest INRD stretches into southwestern Indiana. So the drive between Evansville and Odon will be only about an hour or less, and INRD has already spoken with several companies in southwestern Indiana interested in transferring product by truck to its soon-to-open Odon trans-load facility.

"I think it's going to take two to three years to gain traction," Hoback said of the trans-load yards.

Indiana Rail Road operates 41 locomotives and owns 232 miles of track while using another 320 miles under agreements with other railroads.

The privately held company has about 200 employees. Founded 26 years ago, its customers include Duke Energy, General Electric, Indianapolis Power & Light, Marathon Petroleum and PolyOne Corp.•