Indianapolis city-county councilors hope expanding the downtown TIF district will mean more jobs for their constituents.

Developers, city contractors and other firms benefiting from the expanded economic-development zone must try to ensure that 40 percent of their work force comes from within the expanded TIF area.

The local-hiring target is a first for an Indianapolis tax-increment financing, or TIF, district, and it could kick off a trend, as city leaders look to create more of the economic development zones.

"I want this to be a model," said Councilor Vop Osili, who wrote the local-hiring provision into the controversial TIF-expansion ordinance. Democrats Osili and Councilor Joe Simpson co-sponsored the ordinance, which Republican Mayor Greg Ballard saw as essential to redevelopment of the Massachusetts Avenue fire station and the 16 Tech corridor at the northwest end of Indiana Avenue.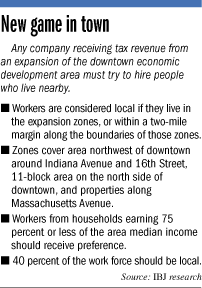 The expansion became a political bargaining chip, however, as council Vice President Brian Mahern, an outspoken critic of TIF districts, sought to delay it while he pushed for a new set of policies that would limit their use.

TIF districts capture the additional property tax revenue generated by projects in the district to cover the costs of new infrastructure or other government spending that makes the projects possible.

Cities throughout Indiana have relied on TIF districts as their primary tool for economic development, but Mahern and others say the strategy is unsustainable because state-imposed property-tax caps have left local governments struggling to cover the cost of basic services.

Osili pushed through the TIF expansion after striking a deal with Deputy Mayor for Economic Development Deron Kintner in which $1.5 million of the district's revenue will be available to local residents for job training and another $2 million will be set aside for microloans.

The local microloans will be in addition to a citywide $10 million fund, which Kintner is planning to roll out at a later date.

The council approved the expansion Oct. 1 by a wide margin, 25-2. Ballard applauded the bipartisan vote, and in a prepared statement said the "catalytic" projects will "create and support thousands of jobs."

It's unclear how many jobs will actually be created from projects inside the expanded TIF. Ballard has not yet named a firm to develop the fire station site, and representatives of Flaherty & Collins, who were waiting for the TIF to be finalized before breaking ground on their Block 400 project, couldn't be reached for comment.

Block 400 is to include 487 apartments and a Marsh grocery store, plus a $13 million parking garage subsidized by the downtown TIF zone.

The TIF expansion includes an 11-block area on the west side of Meridian Street between Vermont and St. Clair streets; neighborhoods northwest of Fall Creek around Indiana Avenue and 16th Street; and properties along Massachusetts Avenue northeast of Michigan Street. (Click here for a map of the expanded district.)

The existing downtown TIF is much larger than the Mile Square. The boundaries run from north of 16th Street to McCarty Street and take in Eli Lilly and Co. facilities on the southwest side.

Osili said it will be up to developers, or any other firm that receives a TIF-related subsidy, to ensure that 40 percent of their labor lives in the local area. The ordinance defines "local" as the expansion areas, plus a two-mile margin around the boundaries.

Employers are also supposed to give preference to people who live in households earning 75 percent or less of the Indianapolis-area median income, which is $66,900, according to U.S. Housing and Urban Development guidelines.

Osili said he wants to make sure new jobs are going to people who need them. Details on who will oversee job training and administer the microloan fund are still being worked out, he said.

The local-hiring provision is a target, not a quota, similar to goals for hiring women, minorities and veterans, said Fred Biesecker, general counsel to the City-County Council.

"You have to make a good-faith effort," he said.

At-large Councilor Zach Adamson doubts the hiring target will be effective, since it's not enforceable.

"There's always the fear they'll say, 'Sorry, we made an effort. We couldn't do it.'"

Adamson said he sympathizes with the need for redevelopment in the neighborhoods Osili represents, but he joined Mahern in voting against the expansion. He said it captures too many properties, especially in Mass Ave, that would be developed in any case.

"I can't explain this to people in Decatur Township," Adamson said. "I can't explain this to people in Lawrence Township."

The TIF-expansion ordinance requires the deputy mayor for economic development to report every six months on how many people receive job training in relation to new projects, plus the race, gender and place of residence of the trainees.

Kintner was out of town and unavailable for comment.

Ballard's administration and some city councilors are beginning a push to add TIF districts all over town. The first of those, a "north midtown" district along College Avenue north of Fall Creek, is already before the council.

Republican Councilor Jeff Cardwell is working to create an economic-development zone along Madison Avenue on the south side that could result in a TIF district. Ballard's deputies have also discussed TIF districts along Washington Street both east and west of downtown.

Cardwell couldn't be reached for comment, but Councilor Jeff Miller, who also represents south-side neighborhoods, said he thought a local-hiring goal might be helpful in the Madison Avenue corridor.

Though he called 40 percent a "pretty high" hurdle, Miller doesn't foresee opposition from would-be developers because it's not a binding quota. He also doesn't have a problem with the additional reporting requirements.

"People feel like the reporting on TIFs isn't there," Miller said. "If this makes people feel better, the taxpayer dollars are being monitored and watched-over, go for it."•