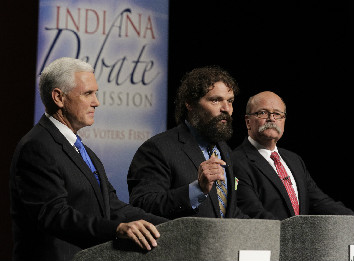 Democratic gubernatorial candidate John Gregg finally drew Mike Pence out of his shell Wednesday in their first debate after months of criticizing the Republican congressman in what has been a fairly lopsided race.
Gregg hit Pence in their first direct battle of the election for missing votes in Congress and opposing the auto bailout. Pence, who attempted at times to continue a front-runner's strategy of largely ignoring Gregg's attacks, hit back Wednesday with a critique that Gregg was part of a state government that left Indiana "effectively bankrupt" a decade ago.
Gregg, Pence and Libertarian candidate Rupert Boneham met at Zionsville High School for the first of three debates before the November election. The meeting marked one of the first times Pence has acknowledged any of the critiques Gregg has lobbed his way over the past year, but the Republican congressman largely stuck to what has been a highly disciplined message, talking about his "roadmap" for the state about 10 times throughout the night.
Pence has held a large fundraising lead throughout the campaign, and the few public polls taken this year have shown him with double-digit leads over Gregg. Gregg tried a more direct message Wednesday night as he seeks to make up ground in the final four weeks, appealing directly to "Lugar Republicans" and flatly rejecting "ideologues" from any party.
Boneham got in a few shots Wednesday, criticizing a lack of transparency in state government, but was more often used as a buffer by Pence, who dodged as many Gregg critiques as possible.
Indiana's next governor will inherit a full plate, beginning with work on the state's next biennial budget. Daniels is leaving his successor with an estimated $2 billion in cash reserves and a pending drop-off in transportation funds of roughly $500 million a year.
The new governor also will have to negotiate with veteran lawmakers during the 2013 session, including Republican House Speaker Brian Bosma, who said last week that new tax cuts sound good on the campaign trail but might have to wait as the state phases out the inheritance tax and decreases its corporate income tax.
The 2013 legislative session also promises to force a few divisive social issues before the new governor, including efforts to teach creationism in Indiana schools and a proposal to write Indiana's ban on gay marriage into the state constitution. Boneham is the only one of the three candidates to say he would oppose the ban.
Pence took his first direct hit on Gregg after asking how the candidates would maintain balanced budgets. Pence snapped back when Gregg appeared to dodge the question:
"Maybe the reason you didn't answer the question about fiscal responsibility is because for five of the six years that you were speaker of the House, Indiana ran deficits," Pence said.
Touting himself as the best candidate to continue the fiscal prudence of his fellow republican, Gov. Mitch Daniels, Pence said Indiana residents should be proud of Daniels' "honestly balanced budgets." Gregg, though, used the reference to Daniels to highlight what he said were differences between the current governor and Pence.
"Mitch Daniels shows up to work every day," Gregg said. Pence's attendance throughout his career has been strong but has recently dropped precipitously as he began spending more time fundraising and campaigning.
At least one of the Hoosiers picked by the debate commission to ask questions was unhappy with the candidates dancing around questions.
Michelle McGuire, 27, and Janette Gallup, 31, sisters who co-own an insurance company in Anderson, said they wanted to see more specifics from all the candidates on stage. McGuire punctuated her question about the candidates' positions on the federal health care law with a request: "Please be as specific as possible."
"I was kind of disappointed with their responses," McGuire said after the debate. The question was personal for the two sisters: Their mother is battling cancer and was denied coverage earlier this year because of her previous battle with breast cancer. The first bill that came in the mail was for $116,000 over one week of treatment.
Please enable JavaScript to view this content.