There's nothing inherently wrong with an Italian restaurant whose history traces back not to a Sicilian Village or a Little Italy storefront or Grandma's kitchen but, instead, to an MBA business plan. But even the accented waitress and fresh ingredients can't mask the corporate nature of Biaggi's Ristorante Italiano (14299 Clay Terrace Blvd., Carmel, 818-1777).

The Clay Terrace newcomer—taking over the former Bar Louie spot—looks and feels like a place you've been before. And maybe you have. Based in Bloomington, Ill., it has locations in 12 states, including spots in Evansville and Fort Wayne. It's big and comfortable, and the food, on our visit, was good enough without dramatic standouts.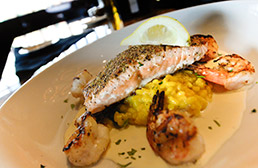 Salmon and Shrimp Milanese floats among the seafood selections at Biaggi's. (IBJ Photo/ Perry Reichanadter)
Both the Roasted Beet Salad ($7.99) and the Lobster Corn Chowder ($5.99) were big enough to split—which the accommodating staff offered to do before we even asked. The former featured sizable chunks of the love-it-or-hate-it veggie roasted in a honey balsamic marinade and sharing the plate with greens, avocado, sun-dried cranberries, toasted pistachios and garlic-herbed goat cheese. The latter had more than the touch of cream promised on the menu, but

flavorfully featured chunks of Maine lobster, sweet corn, potatoes and a mix of colorful vegetables. It was made all the better by fresh bruschetta to dip—speaking of which, aren't we beyond the point where a waitress has to explain what she's doing by mixing olive oil and parmesan on a plate?

Salmon & Shrimp Milanese ($13.99 for a lunch portion) featured iron-seared salmon crusted with unimposing black peppercorn and fennel seeds. It topped a mound of Italian rice strengthened with asparagus and accented with saffron, all of which came together to become the meal highlight. A trio of large grilled shrimp surrounding it only made it that much better.

Ziti al Forno ($11.99 lunch) was less successful—which I should have anticipated when the waitress tried to steer me elsewhere on the menu. The chicken and shrimp were present but diminished by the heaviness of the melted cheese blend and abundance of pasta (which, at least, was perfectly cooked). Italian cured bacon helped, but the lobster allegedly in the cream sauce was lost.

It's nice to see a pizza menu that doesn't go overboard with dozens of variations. Here, there are six to choose from, served either traditionally or as Stromboli. We took home a Sausage Stromboli ($9.99), essentially a rolled pizza with a nice blend of crumbled meat and sauce and a crisp but chewy crust. It was wholly satisfying, which left us eager to try the pizzas another time. Perhaps with a chaser of White Chocolate Bread Pudding ($6.99).

For a restaurant with an elegant persona, it's interesting that Biaggi's also takes care of the to-go crowd, serving Proto Packs ($30) of pasta, salad and bread for four to five and Party Pans ($45-$70) for bigger crowds.•
__________

Third in a month-long series of reviews of possessive restaurants.