BMO Harris Bank sacrificed some deposits in its acquisition last year of Marshall and Ilsley Bank, market-share data from the Federal Deposit Insurance Corp. shows. PNC Bank also lost some deposits, while Fifth Third Bank and Huntington National Bank gained.
Overall, the market's five largest banks maintained their rankings. New York-based JPMorgan Chase is No. 1, with nearly 25 percent of the deposits in the Indianapolis-Carmel metro area.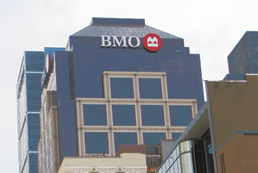 BMO's 2012 local market deposits were 3.5 percent lower than the 2011 combined deposits of M&I and Harris National. (IBJ file photo)
Chase is followed by Pittsburgh-based PNC (19 percent), Cincinnati-based Fifth Third (10 percent), Columbus, Ohio-based Huntington National (7.5 percent) and BMO Harris (6.5 percent).
Total deposits in the area grew 5.5 percent, to $33 billion, according to FDIC data as of June 30 that was released Oct. 1.
Toronto-based BMO picked up 31 M&I branch offices in the local market, where it already had 11 Harris National offices. The bank combined the two into BMO Harris with 41 offices, FDIC data shows.
Together, M&I and Harris had $2.3 billion in deposits in 2011, but the combined BMO ended the reporting period June 30 with $2.2 billion, a 3.5-percent drop.
PNC lost $449 million in deposits and 2.5 percent of its market share over the year, while Fifth Third gained 1.4 percent, and Huntington gained 1 percent.
The Indiana-based bank with the largest market share is the National Bank of Indianapolis, which has $1.3 billion in deposits, or 4 percent of the market.
Some bankers don't put much stock in deposit market share because the numbers can be skewed by large, institutional deposits.
Please enable JavaScript to view this content.