Indiana Republicans expect to rule the Statehouse again in 2013, and the only question to be answered Nov. 6 is the extent of their majority.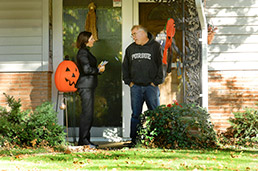 Democrat Christina Hale is campaigning door-to-door in Rep. Cindy Noe's north Marion County House district, where Republicans hold a narrow majority. (IBJ photo/Perry Reichanadter)
Will they keep and win enough seats on Election Day to form quorum-proof majorities in both the House and Senate, allowing the General Assembly to conduct business without any Democrats present?
Lobbyist Julia Vaughn expects the Republican dominance to at least continue at its present level.
"One or two here or there could change hands, but I would be really surprised to see them in a less secure position after Election Day," said Vaughn, policy director at Common Cause Indiana.

Vaughn
Republicans already hold 37 of 50 seats in the Senate, and Democrats would need to take back five just to undermine the super-majority.
House Republicans gained the majority in 2010 with 60 of 100 seats. They need seven more to form a super-majority. Although redistricting worked in their favor, it's not enough to put them over the top. They'll also have to beat Democrats in a few closely split districts in Marion County and southern Indiana.
Republican Sen. Mike Young said he thinks the House will have its super-majority if certain candidates prevail. The must-wins on his list include Bruce Borders, an incumbent from southwestern Indiana who works as an Elvis impersonator, and Morgan County Clerk Peggy Mayfield.
But Young said he's not sure what such a strong majority will accomplish.
"When you have a super-majority, it's a lot more difficult to get everybody in line," he said.
Democrats would need to keep their seat in one of the state's most competitive House districts, which covers neighborhoods on the near-south and near-west sides of Indianapolis.
Two young professionals, Democrat Justin Moed and Republican A.J. Feeney-Ruiz, are competing for the House District 97 seat left open by Rep. Mary Ann Sullivan, who is running for state Senate.

Ogden
The district has the most evenly split voting pattern in Marion County, said Paul Ogden, a Republican lawyer and blogger. Looking at the 2010 election of Marion County recorder, an office decided by party affiliation, Ogden found the Democrat-Republican split to be 48 percent to 52 percent.
Moed, a former legislative policy analyst who lives in Garfield Park, has been knocking on doors since March. In his campaign materials, he emphasizes finding solutions to large swaths of abandoned and dilapidated housing.
Feeney-Ruiz, a business owner and political consultant, is also working the neighborhoods, playing up his private-sector experience and his moderate voice among Republicans.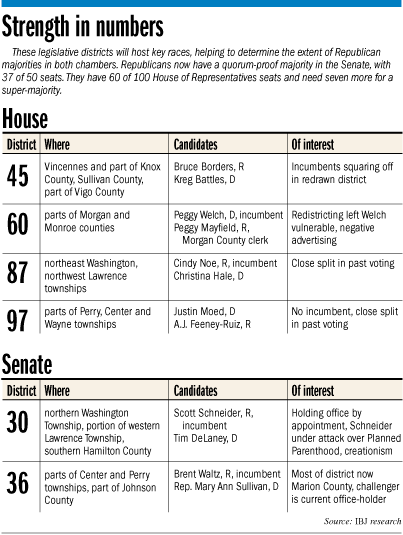 Ogden contends that Republicans aren't safe in any district with a base of less than 60 percent, and that includes two others in Marion County—retiring Rep. Phil Hinkle's District 92 on the west side, and Rep. Cindy Noe's District 87 on the north side. Both have a Republican base of around 55 percent, according to Ogden's analysis.
Noe's Democratic opponent, Christina Hale, a former chief communications officer at Kiwanis International, picked up endorsements from the Greater Indianapolis Chamber of Commerce and the Indiana State Fraternal Order of Police.
She's attacking Noe, a state representative since 2002, on her support for teaching creationism in schools and defunding Planned Parenthood.
Those are the same issues that political scion Tim DeLaney has raised in his quest to wrest the District 30 Senate seat on the north side from Republican Scott Schneider. Theirs is seen as the closest contest for Senate in the state, playing out with television advertising by both sides.
DeLaney has name recognition as the son of Rep. Ed DeLaney and former party chairwoman Ann DeLaney, though it might not be a positive association in the minds of the district's Republican voters, said Ed Feigenbaum, publisher of Indiana Legislative Insight.
Schneider, a former city-county councilor, isn't new to politics, but this is his first legislative race. He was chosen to fill the seat after Teresa Lubbers was appointed Indiana's commissioner for higher education in 2009.
District 30, which covers most of Washington Township before crossing 96th Street to take in a strip of Hamilton County, is moderate, Feigenbaum said.
"Scott Schneider has to convince both Republicans and Democrats there that he's got the right temperament and mind-set to represent them," Feigenbaum said.
Democrats are also hopeful about Sullivan's bid to unseat Republican Sen. Brent Waltz, who lost some of his Johnson County base in the 2011 redistricting.
Legislative districts redrawn to account for population shifts favored the Republican majority, but not necessarily those lawmakers whose districts include Marion County, said Ogden, who has also taught a class on redistricting at the University of Indianapolis.
The legislative majority is larger than the state's Republican voting base, Ogden said, so it would have been impossible to create safe havens for every office holder. He thinks even Young, who helped draw the maps, may be more vulnerable in the future.
Young insists that his west-side seat and others are safe because the outer edges of Marion County townships are still solidly Republican.
The House will see 19 incumbents retire, and 12 of them are Democrats. That's no accident, Vaughn said. The redistricting process consolidated several Democratic districts and diluted others. Lawmakers like Jeb Bardon from Wayne Township opted not to run, rather than compete against an incumbent Democrat.
"For somebody like that to be eliminated because of where the lines fall is disappointing," Vaughn said.
The process didn't work out as neatly in southwestern Indiana, where two incumbents—Bruce Borders, a Republican from Jasonville, and Kreg Battles, a Democrat from Vincennes—find themselves vying for the same seat.
Battles, a teacher, seems to know everyone in his community, Vaughn said, but his opponent, who sells insurance in addition to being an Elvis impersonator, could be one of the most well-known characters in the area.
Young sees Borders as the favorite, of course.
"Elvis doesn't lose. They love him in that area," he said.
The new district boundaries also could imperil Democratic Rep. Peggy Welch, who lost a large chunk of her base in Monroe County as the district shifted north. Welch, a Bloomington oncology nurse, is trying to hold off Mayfield, who's a champion skeet shooter in addition to serving as Morgan County clerk.
Republicans expect to pick up that seat, Feigenbaum said, and they've funded radio ads criticizing Welch for her participation in Democrats' 2011 walkout to prevent right-to-work legislation.
Feigenbaum thinks overwhelming Republican majorities will be short-lived, especially if U.S. Rep. Mike Pence wins the governor's race, and the General Assembly pushes conservative social issues.
"It's not going to be incremental," Feigenbaum said of the pushback from voters he would expect to see. "It's a swing of the pendulum."•
Please enable JavaScript to view this content.