Senior Vice President and Employee Benefits Division Manager, Gregory & Appel Insurance
Sphere of Influence: Alexander is a top local insurance executive who specializes in employee benefits and in opening doors for women in a male-dominated field.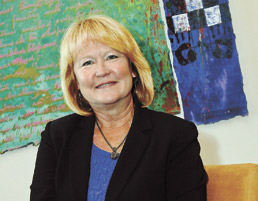 (IBJ Photo/ Perry Reichanadter)
When Sheri Alexander was diagnosed with breast cancer in 2003, the importance of health benefits, part of her field of expertise, hit home in a personal way.
"I had early diagnosis because I had access to health insurance, and I had lots of support, transportation for treatment and all those things so many people don't have," recalls Alexander, a senior vice president and part owner of Gregory & Appel Insurance.
Since her recovery, she has become a leader and fundraiser for organizations that battle cancer on different fronts, including helping people undergoing treatment and funding research to find a cure.
Alexander is on the boards of the Cancer Support Community and the Little Red Door Cancer Agency. She explains she was drawn to these organizations "not so much because I had cancer, but because I was so lucky in my cancer journey," in having support and resources that some do not.
She's also among the 100 largest fundraisers for the Indianapolis chapter of Susan G. Komen for the Cure.
Alexander grew up just south of Tampa, Fla., on Anna Maria Island, where her family rode out Hurricane Camille in 1969. If she has one regret, it might be not finishing her undergrad degree at Florida. She left school in her junior year when her boyfriend at the time died suddenly. Still, Alexander believes everything happens for a reason. If she had not left school and come to Indianapolis, she might not have gotten her first job with Gardner & White and had her first taste of benefits work. She also might not have met her future husband.
She joined Gregory & Appel in 2005, lured away from the larger Marsh & McLennan, where she spent 15 years and was the top producer in her division two years running. Her specialty was working with hospitals, which she called "a tough market. Its workforce has unique needs."
At Gregory & Appel, she has tripled the size of its Employee Benefits Division and quadrupled its revenue, leading and mentoring while employees designed, priced and communicated benefit packages. "We have built it into a real powerhouse in just a short time."
While insurance is a male-dominated field, Gregory & Appel has quite a few women in key positions. "I'm sure I have a little bit to do with that," she laughed, noting several of those women have worked with her in the past.
"Women are extremely good at this job," she said. "I think when you work with employees, like human resource people (do), you have to be very nurturing and caring. The ability to do that, and multitask in a rapidly changing industry, makes it a good fit for a woman who's confident enough to be in a sales role."
Personal satisfaction comes from family, raising a daughter, and the community service work she and Michael Alexander, her husband of more than 30 years, undertake.
She is also an avid reader of suspense novels. She and her family are regulars at Morse Lake, where they boat and jet ski. They are also frequent travelers. Italy is her favorite destination.•
_____
Click here to return to the Women of Influence landing page.
Please enable JavaScript to view this content.