President and CEO, Indiana Humanities
Sphere of Influence: Amstutz leads a statewide organization whose goal is to deepen the connection between Hoosiers and their communities.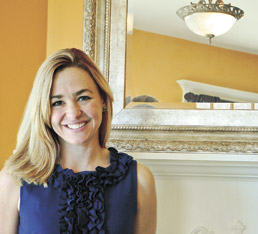 (Photo courtesy of Indiana Humanities)
Life and work have taken Indiana Humanities President and CEO Keira Amstutz all over her home state of Indiana. She wouldn't have it any other way.
Amstutz grew up in Hamilton, in the northeast corner of the state. She found her way to Indianapolis through a Governor's Fellowship from Evan Bayh after graduating from DePauw University, where she studied political science. In the governor's office, she managed a program called Capital for a Day, in which the governor would take his top executives to different places around the state for a day or two.
"I fell more deeply in love with Indiana through that process and learned an awful lot more about the state," she said.
Eventually, she decided to go to law school. After graduation, she worked for the litigation firm Norris Choplin & Schroeder LLP in downtown Indianapolis. Then someone she'd gotten to know while working in the Bayh administration, Bart Peterson, decided he was going to run for mayor and asked if she'd help him out.
"I was surprised when he decided to run," she said. "I couldn't have predicted that opportunity, but it sure was a wonderful opportunity to serve the community and learn a lot more about Indianapolis."
Amstutz ran Peterson's first campaign and wound up spending eight years in city government, where her jobs included assistant deputy mayor, administrator of the city's cultural development initiative and, finally, chief counsel and director of policy.
She moved to Indiana Humanities in April 2008 and is widely credited with boosting the independent not-for-profit organization's visibility and finances. Indiana Humanities, which she describes as "like a sister to an arts council," gives grants to support humanities programming throughout the state—initiatives designed to "touch people's hearts and connect them deeper with their communities." It also puts on programs of its own.
Amstutz describes Indiana Humanities as having "a small budget and a wide reach." Its reach has been evident the past two years with an initiative called Food for Thought, which included a traveling exhibit and other events that explored Indiana agriculture and the state's food culture. Food for Thought won best humanities program at the National Humanities Conference in 2011 for the innovative way that it engaged new audiences in thinking, reading and talking about food. More than 100 organizations partnered with Indiana Humanities to create more than 100 events throughout the state.
The team that put together the companion book for the exhibition is now touring the state, and Indiana Humanities is now in the midst of a two-year initiative called Spirit of Competition that will delve into athletic, political and economic competition.
At home, Amstutz has a busy family life. Her husband, Shawn Mulholland, is one of the managing directors of BSA LifeStructures, an architecture and engineering firm. They have two daughters—Chase, who's a high school freshman, and Elise, a seventh-grader.
"I'm very lucky," Amstutz said. "I have a wonderful family and I get to work in a place that I love, on subjects that I care about, with the most extraordinary people."•
_____
Click here to return to the Women of Influence landing page.
Please enable JavaScript to view this content.