President and CEO, Defender Direct
Sphere of Influence: In her role as the top executive at a fast-growing local company, Barnes preaches leadership and public service.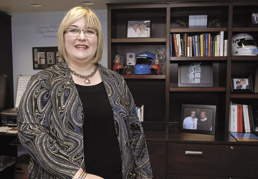 (IBJ Photo/ Perry Reichanadter)
Marcia Barnes believes if her company can help employees be better people, the business will take care of itself.
As the CEO and president of Indianapolis-based Defender Direct, she leads a nationwide home services company with a philosophy of public service and self-improvement. The company gives employees five paid days a year to serve in their communities, and offers a service-project challenge that gives employees an opportunity to win cash for the charities they serve. Finally, the company sponsors Homes of Hope, a project that sends employees and their families to Mexico or the Dominican Republic to build homes.
Considering Defender Direct has more than 2,300 employees nationwide, including around 800 in Indianapolis, that is a major financial commitment.
"We're a business, but we're a business full of givers," said Barnes. "It's hard to quantify the bottom-line impact, but that's not really why we do it."
They do it to help every employee develop as leaders, asking them to work harder on themselves than they do on their jobs. Defender Direct sees growing leaders as its lasting legacy.
The company does this with a four-pronged approach it calls the Four Passions: self-improvement, systems are the solution, developing leaders and ever-expanding influence.
Barnes met Defender Direct founder David Lindsey in 1999 when her 85-person call center company, Team Associates, did work for Defender. They found their values and business approach compatible and merged companies in 2005. She joined Defender's executive team, becoming president and CEO in 2011.
While Defender Direct may be best known as a home security business, it bills itself as a home services company, also offering satellite television and home heating and cooling systems. From 2005 to 2010, annual revenue grew from $20.1 million to $255 million.
Barnes, who grew up on a family farm in Sunman, Ind., spends her days teaching and mentoring employees. "Most of the teaching I do is about leadership, not necessarily job training," said Barnes, a self-learner who estimates she reads between 50 and 60 non-fiction books a year.
"I always felt guilty I never became a teacher," said Barnes, who studied journalism at Indiana University. "Until one day about 15 years later, I looked at my schedule, and everything for that day was teaching in one way or another."
She has two sons, R.J. and Ryan, from her first marriage. Ryan has cerebral palsy. While some parents with a special-needs child decide to limit their outside activities, Barnes took a different approach, taking her sons to work with her.
She decided to integrate her two main roles, mother and businesswoman. Today, both of her sons work at Defender Direct.
She married Brad Barnes just over a year ago, blending a family of five adult children between them. Her quest to serve others has a religious foundation, and includes volunteering at Shepherd Community Center and Habitat for Humanity.
"I probably lead from faith more than any other tool in my toolbox," Barnes said. "I don't spend time telling people what to believe. I spend time showing them what a believer does."•
_____
Click here to return to the Women of Influence landing page.
Please enable JavaScript to view this content.