CEO, Knowledge Services
Sphere of Influence: Bielawski started and runs the city's fastest-growing woman-owned business, which sells services to the state, city and large corporate clients.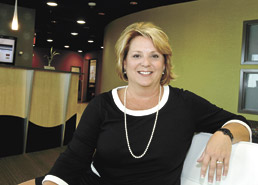 (IBJ Photo/ Perry Reichanadter)
When Julie Bielawski started Knowledge Services in 1994, she had multiple goals: return to the work force, maintain an enriching family life, and, ultimately, work with her husband.
That has all come to pass.
Her professional services company is the fastest-growing woman-owned business in Indianapolis, with about 1,000 employees. Just under 500 work in Indiana and the rest are part of a contingent labor force serving clients in 49 states. Managing it all, training workers and complying with state and federal regulations, is both complicated and challenging, she said.
The company, which started as a technical training facility, provides staffing and payroll services. Its clients include the state of Indiana, city of Indianapolis, Ivy Tech, Advantage Health, OneAmerica, Lenscrafters, Papa John's and Oracle.
Her husband, Joe Bielawski, eventually left his job and joined her at Knowledge Services, taking over the technical end. Today, he runs their spin-off company, dotStaff LLC, which uses vendor management system software that Knowledge Services developed to help clients manage contingent labor services.
"Frankly, working together was the ultimate goal," Julie Bielawski said.
Their children are now grown, and their oldest daughter works at Knowledge Services in employee relations; their son is in law school, and their younger daughter attends the Fashion Institute of Technology in New York.
Bielawski majored in telecommunications at Butler University, "and I've never been on radio or television," she laughs. Instead, she worked in customer service. "I enjoy business and customer service, and delivering something that is needed by our clients."
From state government to corporate America and even the small business owner, "contingent workforce is widespread," Bielawski said, citing uncertainty over government regulations and the economy as the reason.
Bielawski's duties and responsibilities have changed over the years. In the beginning, "doing everything" meant not only working with clients and vendors, but keeping the books, purchasing equipment and even baking muffins for their training classes.
Today, she leads an experienced management team and is responsible for providing the tools, the environment and the support employees need to serve clients and vendors. She also deals with banks, finance, organizational and human resource needs, technology and infrastructure and meeting all regulatory and tax requirements. 
"When you are starting and growing a business, there is not a lot of time" for outside commitments, she said. Instead, she focuses on providing employment opportunities to others. "We have hired many young people in high school and college and mentored them through their jobs," she said. "Now they are very successful, so we contribute that way." The company has also partnered with startup firms to help them grow.
The Bielawskis' extended families live in the Indianapolis area, giving them a strong stake in the city's future.
"My belief is that the best thing I can do is provide opportunity and to try to help those that we live with," she said. "This is a pretty important place for us. This is where we live and this is what we want to touch."•
_____
Click here to return to the Women of Influence landing page.
Please enable JavaScript to view this content.