Managing Partner, Deloitte
Sphere of Influence: Boelke is the first woman to run Deloitte's Indianapolis office, which is one of the city's biggest accounting firms.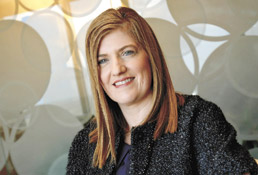 (IBJ Photo/ Perry Reichanadter)
In June, when Deloitte asked Mary Boelke to transfer to Indianapolis to become managing partner, she was delighted. Not only would she become the first woman to run the local office of the audit, financial advisory, tax and consulting firm, but she'd be coming home.
"It was a great personal as well as professional opportunity," she said. "It's great to be back. It's a great community, and having family here and the practice that we have here is wonderful. It's a real honor to be able to come back and manage the practice."
Boelke grew up in Indianapolis and started to become interested in accounting while in high school. She went to Indiana University intending to major in business, and she started out in public accounting.
"I thought it was important for overall business to understand the accounting side," she said. "I liked what I was doing serving clients and the balance between serving clients and being able to build relationships and interact with people."
Her career started in Chicago, and she joined Deloitte in Indianapolis in 1991. Nine years later, the company moved her to San Jose, Calif., where she eventually became the tax managing partner.
From there, Deloitte sent her to Dallas to manage its tax practice. She spent 6½ years in that role. Then Michael Becher, the longtime manager partner of the Indianapolis practice, announced his retirement in June. The firm asked Boelke to relocate to Indianapolis and take over.
Boelke oversees approximately 200 Deloitte employees in Indianapolis. She's responsible for leading quality, client satisfaction, growth, marketplace and human resources initiatives.
She said she likes the mix that accounting provides—serving clients and providing value for them—so she continues to work directly with Deloitte customers. "The people side as well as the technical interest always intrigued me from the very beginning in college and over the 23 years," Boelke said.
She also enjoys being involved with training and mentoring employees. When Boelke started in accounting, Deloitte was losing a number of high-performing women. The company started an initiative called WIN to help retain and promote women, and Deloitte now boasts more than 1,100 women at its highest levels.
"I've been very fortunate to have people that spent time with me and took me under their wing and helped me to be successful and be willing to take risks in my career," said Boelke, who led the WIN program in San Jose. "I think that's important to give back."
Boelke and Steve, her husband of 23 years, have 14-year-old twins, Nick and Caroline, both of whom are active in school sports. Earlier in her career, Boelke served as chairman of the board for the Make-a-Wish Foundation in Indianapolis.
"When you have children and they're healthy, it makes you appreciate it that much more when you're involved in an organization that helps kids with life-threatening illnesses," Boelke said.•
_____
Click here to return to the Women of Influence landing page.
Please enable JavaScript to view this content.