Publisher, The Indianapolis Star
Sphere of Influence: The newspaper industry veteran is responsible for steering the state's largest daily through a tumultuous time for media properties.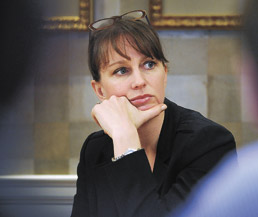 (IBJ Photo/ Perry Reichanadter)
When The Indianapolis Star named Karen Crotchfelt publisher in December 2010, an anonymous commenter wrote on the Gannett Blog website: "Karen is … [s]mart, poised, visionary, articulate and a rock-solid manager who knows marketing, advertising, circulation and the business side very, very well. Tough as nails and can be a real nut cutter, but you won't find a smarter more passionate individual. Work hard for her and reap big rewards. Say and do stupid stuff…then stand back 'cause you're going to get skewered."
Crotchfelt laughed when the comment was read to her.
"I would have to characterize that as fairly accurate," she said.
She said she's learned to keep her skewering to a minimum and those kinds of conversations private.
"But I set high expectations because I believe in what we do," she added.
Crotchfelt's passion for newspapers started in high school, and she went to Northwestern University to study journalism. But during an internship, when she had to interview a woman whose child had died, she went back to school and asked: Is there something besides journalism that happens at a newspaper?
They steered her to the business side. "I'm sure back in the day, I thought what many people think: That newspapers are non-profits," she said with a laugh.
She began her career in Gary, where she worked her way up from junior account executive to circulation sales manager. She met representatives of the newspaper chain Gannett at a conference, and they offered her a job in Nashville, where she ran the circulation sales department.
That led her to Gannett papers in Palm Springs, Calif., to Reno, Nev. (as ad director), and then to Phoenix, where she finished as senior vice president for strategy and development.
The Star is her first publisher job, and it's been eventful for her and the newspaper. In July, she announced that after giving away its content for years on the Internet, the newspaper would allow readers access to 20 stories a month before they had to pay.
"Our model always has been and will continue to be reliant on consumers to be engaged fiscally," she said. "We believe we have strong content, that our customers will pay for it—and that is happening—and we are going to change what we do."
The same month Crotchfelt announced plans to sell the building at 307 N. Pennsylvania St. that has been the Star's home since 1907. It wasn't an easy decision, she said, but it was a necessary one to reposition the organization, serve the employees and make the operation cost effective.
"I wake up every day with a goal in mind of how do we preserve journalism for my kids when they grow up so there is an organization like ours protecting and serving the community," she said.
Crotchfelt's children are 5-year-old Kaela and 4-year-old Kyle. Her husband, Kevin, is an entrepreneur she met and married in Reno, despite his last name.
"I clearly loved my husband when I took his last name," she said. "I thought if he could deal with the name, I could deal with the name. And nobody ever forgets my last name."•
_____
Click here to return to the Women of Influence landing page.
Please enable JavaScript to view this content.