Senior Vice President of Resource Development, United Way of Central Indiana
Sphere of Influence: As head of fundraising for the local United Way, Dabney and her team are responsible for landing the donations that fuel many of the city's human services providers.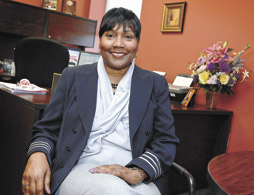 (IBJ Photo/ Perry Reichanadter)
Volunteer work with inner-city children in Philadelphia convinced Angela Dabney to leave the for-profit world for the not-for-profit sector. Her husband's job offer in Indianapolis meant she would restart her career here, where she grew up and attended Shortridge High School.
She joined United Way of Central Indiana in 2003 and never looked back.
"People kept telling me, 'You really need to look at United Way. It's the place where things get done,'" Dabney said. When she looked she was impressed with what she saw. By 2004, she was promoted to senior vice president for resource development, a job that puts her in charge of fundraising and recruiting and training the fundraisers. In 2011, her team raised $40.6 million, a record in the local United Way's 94-year history.
"One of the best-kept secrets that people don't understand is fundraising is the most exciting and fun part of everything in non-profit," she said. Why? "I get to help people understand the work of United Way," how it helps children and their families, she explains. How they transform early childhood education, to give children a better start.
"I'm asking people to invest in something that is bigger than all of us, that pays a better return than anything you could possibly invest in, that will change our community forever, that will create an entirely new picture. It's a vision of an entirely new way of life for lots of our neighbors that we don't know but who need our help."
Perhaps because she spent 20 years in the corporate world (her last job in Philadelphia was as an assistant vice president at CIGNA Group Insurance), she is at ease talking to company CEOs and leadership teams about their United Way campaigns.
She launched Emerging Leaders, a new group for young professionals under 40 to donate, volunteer and network in their community.
"Not only do you have young donors getting involved in United Way, but you have young donors with great ideas" that can help the organization move faster in some areas, she said.
Women United is another giving group started under Dabney's watch. "Women are the biggest donors in the country," she said.
Dabney attended Ball State University and majored in journalism and public relations. She soon discovered that she was more interested in the business world than in journalism. When she left the for-profit world, she joined the Association of Fundraising Professionals and took a couple of philanthropy classes at Villanova University. Those experiences reinforced her instincts that she was making the right move.
She and her husband, Michael Dabney, a writer and journalist, have two college-age daughters, Ericka and Michelle. She likes the idea that when her daughters were growing up they were able to see their mother not only as a professional person but as someone doing work that had a direct impact on individuals and who helped to change a community for the better.
"I want to be excited about going to work," she said. "I want to feel it matters what I do."•
_____
Click here to return to the Women of Influence landing page.
Please enable JavaScript to view this content.