Executive Director, Booth Tarkington Civic Theatre
Sphere of Influence: Dick is steward of one of the area's oldest performing arts organizations and has overseen its transition to a new home in Carmel.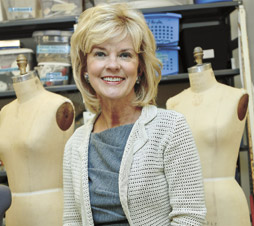 (IBJ Photo/ Perry Reichanadter)
When Cheri Dick was in high school, she auditioned for the lead role Anna in the musical The King and I. Those who knew her must have thought it a curious ambition because, as she says, "I can't sing and I can't act."
The morning the cast was posted, she looked eagerly for her name. She did not get Anna; she did not even make the chorus. But way at the bottom of the list she found her name. She had been "cast" as business manager.
"I was selling tickets back in high school, and that's exactly what I'm doing today," said Dick, the executive director of the Booth Tarkington Civic Theatre since 2005.
Of course, she doesn't merely stand in a box office and sell tickets. She sells people on the idea of Civic Theatre, a community theater with a professional staff and an annual operating budget of $2 million.
Last year, the then 97-year-old Civic launched its first season in its new, permanent home at the glitzy Center for the Performing Arts in Carmel. The expertise of her staff "is what really elevates our productions," she said. "The product that we produce is really quite exceptional."
Its second season in Carmel is in full swing, and season ticket sales are up 32 percent since the company moved from the campus of Marian University.
Whether longtime patrons would follow Civic from Indianapolis to Carmel, of course, was a concern. Dick notes that about 70 percent of the patron base stuck with Civic, even as theater lovers and the merely curious in Hamilton County checked it out. This year, about 83 percent of last year's ticket holders are back.
While about 55 percent of revenue comes from ticket sales, Dick explains, the rest is from going out and pounding the pavement. She concedes it's a lot of money to raise every single year. "We do have generous support from Pulliam Charitable Trust and the Christel DeHaan Family Foundation," and other longtime donors.
Thankfully, she enjoys fundraising. "It's the most easy, natural thing on Earth," she said. "It's talking to people and finding out about them," and finding common ground.
Before joining Civic Theatre, Dick worked as marketing director in the family business, her father's architectural engineering firm. Before that, she worked at what is now Indiana Landmarks. She majored in political science at the University of Denver.
During her long first marriage, she lived in Indianapolis and was active in the Junior League and her children's schools. She has two children, Abigail Lynn, 31, and Charles Lynn, 25.
She was hired at Civic by its then-board chairman, Rollin Dick. Within a year or so, both their spouses had died of cancer, and a firm friendship had formed. When they decided to marry four years ago, he resigned from the board. They live in Zionsville, which she loves.
Cheri Dick says she doesn't believe in looking back. She finds her work challenging and her personal life fulfilling. Like Anna in The King and I, she "Whistles a Happy Tune."•
_____
Click here to return to the Women of Influence landing page.
Please enable JavaScript to view this content.