President and CEO, Gleaners Food Bank of Indiana
Sphere of Influence: A former banker on the East Coast, Hubert has spent a dozen years working for local not-for-profits and now heads one of the area's largest hunger-relief organizations.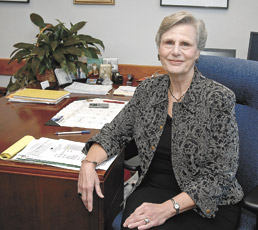 (IBJ Photo/ Perry Reichanadter)
Cynthia Hubert describes her leadership skills this way: "I take an organization to college. I help it mature."
As president and CEO of Gleaners Food Bank of Indiana, that's meant putting in the structure, fundamentals and foundation that she said the organization needed. Hubert, who arrived at Gleaners from Second Helpings in fall 2010, put a senior leadership team in place and grew the staff from 46 to 68 to more effectively handle all the work that needs to be done in its 300,000-square-foot facility.
"What I quickly realized is that to run it effectively and to protect and cherish the facility, you need to have more staff," she said. "We needed to have enough people to do what we do every day to meet our needs.
"That is my strength," she added. "That's what I'm recognized for. That's why people see me as a leader. It's not about me or about Gleaners; it's about what we can accomplish together."
Hubert spent the first 25 years of her career in banking on the East Coast. Twelve years ago, she and husband, Steve, sold their Connecticut home, quit their jobs and moved to Indianapolis to be near her brother, Frank Hagaman, the founder and longtime president of Partners in Housing Development Corp. (The Huberts, who have now been married 41 years, have a grown daughter, Stacey, who lives in Arizona.)
Friends and colleagues were skeptical about their move to the Midwest, but Hubert said it's been great. She recalls an evening early on when she and Steve went to dinner and a weeknight Pacers-Knicks game and were home by 10 p.m. That would have been time-prohibitive, if not cost-prohibitive, in their previous home.
"Here," she said, "I can do what I do, I love what I do, I'm good at what I do and we can live in a community where we can be part of the community."
When they arrived in Indianapolis, Hubert didn't want to continue as a banker. But she did want to put her business skills to good use. Her first job in Indianapolis was with Horizon House, the day center for the homeless, and she "fell in love with the work."
At the same time, "a non-profit still has to be run as a business," she said. "Instead of shareholders, we have the community to be responsible to."
At Gleaners, she's seen an ever-growing community and an ever-growing need. Last year, Gleaners parceled out 26 million pounds of food, up from 20 million in the previous year. That's 19 million meals, compared with 15 million.
"We're seeing more and more people in the pantry lines that are you and me—more people who have never stood in a pantry line before," Hubert said. "They've never had need before."
That's a depressing thought, but it's also what keeps Hubert going.
"The person who says, 'Oh, thank you, I haven't had meat in six months,'" she said, "just motivates us to do what we do every day to be effective."•
_____
Click here to return to the Women of Influence landing page.
Please enable JavaScript to view this content.