Executive Vice President and Chief Financial Officer, Duke Realty
Sphere of Influence: After a long career at GE, Kelly is the executive responsible for the financial performance of one of the city's biggest commercial real estate firms.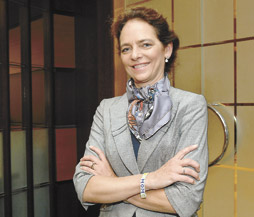 (IBJ Photo/ Perry Reichanadter)
Christie Kelly joined Duke Realty on one of the worst days ever for Real Estate Investment Trusts: March 4, 2009, the day the RMZ REIT index hit close to an all-time low.
With that as the backdrop, the new executive vice president and chief financial officer needed to sit down immediately and "understand from our investors and analysts what some of the things are that they expected from a high-performing REIT."
Kelly, Duke Realty CEO Dennis Oklak and their team ultimately laid out a plan and operational metrics that would show what they were trying to do and how well they were doing. And they've been successful in executing their strategy. This year, from a total shareholder return perspective, they're outperformed the S&P 500, S&P 400 and the RMZ index.
"We've been able to execute the strategy," she said, "and the strategy is really resonating with our investors."
The job fits Kelly's career trajectory, but it's not one she expected to have when she was in high school. Kelly grew up in Pittsburgh, the oldest of six children, and thought about studying architecture. But she loved real estate and finance and ended up majoring in economics at Bucknell University. General Electric recruited her out of college into its financial management leadership program.
For someone who had spent years working as a laborer in a refractory contracting company to make money for school, the idea of employment with GE trumped driving a forklift and cutting brick.
The program that Kelly went through at GE allowed her to rotate through different positions, including a job on the GE corporate audit staff.
"You're exposed to a lot of different leaders around the world and put into assignments that are demanding," she said. "I was really able to experience a lot in a little bit of time, which I think broadens your perspective."
She also had the opportunity to move internationally, spending a number of years living and working in Europe and Asia. Twenty-plus years passed quickly.
Then Lehman Brothers—with whom she had worked closely while at GE—recruited her for its global real estate group. She'd relocated 12 or 13 times with GE and didn't want to subject her family to additional moves. So she moved on to Lehman Brothers in 2007, then joined Duke Realty three-plus years ago after Lehman Brothers folded.
As CFO, Kelly is responsible for all of the operational finance areas of the company, including taxes, financial analysis, deal review, accounting and financial planning. The job, she said, has proven to be a great fit—as has Indianapolis. Kelly and her husband of 25 years, John, and their children—Olivia, 16, and Jack, 11—have made Zionsville their home. The kids are active in sports, and John, a former stock trader and aspiring writer, is a stay-at-home dad—and has been for as long as they've had children.
Kelly said she's achieved as much as she has because of her family and because of "hard work, being passionate about what I'm doing, really having that love of who you're with, where you are and what you're focused on."•
_____
Click here to return to the Women of Influence landing page.
Please enable JavaScript to view this content.