President, Indianapolis City-County Council
Sphere of Influence: As an elected member and president of the city's legislative body, Lewis plays a key role in local government.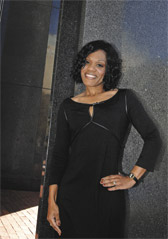 (IBJ Photo/ Perry Reichanadter)
Service to others has been part of Maggie Lewis' life. As a girl in Columbus, Ind., she watched her single mother take in families who needed a meal or a place to stay.
"They don't talk about having homeless folks in Columbus, Ind., but there were, and my mom had no problem having them over for dinner and making sure they were OK," Lewis said. "I think service became important to me from watching my mom over the years."
These days, Lewis serves extremes. Her day job is executive director of Dove Recovery House for Women, which helps women with a history of substance abuse or addiction become clean, sober and self-sufficient. Lewis said she draws strength from the women "because to be able to throw your hands up and say, 'You know what? My life is no longer manageable and I need your help'—that takes a lot for a person to humble themselves that way."
Then there's her other position as the first female president of the Indianapolis City-County Council.
"The Dove House is at one end of Washington Street, the City-County Building is at the other," Lewis said. "On some days, I'm going back and forth. At the Dove House, I have ladies who would be happy to have $5 in their pocket. And then when we're at the City-County Building arguing over thousands of dollars, it helps remind me what's really important in life."
Lewis came to politics through service. After earning her bachelor's degree at Indiana State University, she moved to Indianapolis and became active in political campaigns and neighborhood association work. Although she thinks of herself as someone who likes to fly under the radar, she decided to take the chance at public office. Lewis won a special election in 2008 to replace Cherrish Pryor in the 7th Council District, then was elected to a full term in 2011.
She calls this her "first real term."
Lewis said she's proud of what the council has accomplished this year, particularly the smoking ban. She's also optimistic that council Democrats and Republicans can work together, and work with Mayor Greg Ballard, to take care of the city's business.
"We talk about building partnerships and relationships and bipartisanship, and now we are forced to do that because we have split government for the second time in Unigov history," she said.
When she's not at work, Lewis is still serving others. Sometimes that means the parish at Mount Paran Baptist Church; sometimes that's her husband LeRoy III, who was her college sweetheart, and their 6-year-old son, LeRoy IV.
"For me, it is all about serving people," she said. "It's good for my soul. It feels good for me to do it. When I'm no longer the president of the City-County Council, my life and my dream will still be about serving other people."•
_____
Click here to return to the Women of Influence landing page.
Please enable JavaScript to view this content.