Executive Vice President, Lucas Oil Products
Sphere of Influence: She's half of the husband-and-wife team that runs Lucas Oil, a high-profile car products company with far flung business interests and important investments in local professional sports.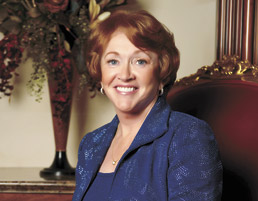 (Photo courtesy of Lucas Oil)
Charlotte Lucas says she's an executive vice president of Lucas Oil Products. And then she laughs and says: "But I'm not sure what of. I think it's just keeping (her husband) Forrest going and keeping him on schedule."
That's a formidable task, but Charlotte Lucas has been by her husband's side since he started visiting mostly mom-and-pop truck stops to sell the oil and additives he created. Now, their privately held company, which they founded in 1989, brings in annual revenue of $150 million, according to Forbes magazine and the company's website.
When they met, she was a single mom running a hair salon on her front porch in Taswell, Ind., and he was a trucker driving through town. "I needed the money," she said, "and he needed a haircut."
In the early days of Lucas Oil, when the company's staff consisted of two Lucases and one salesman, Charlotte took care of the paperwork, billing, receiving, shipping and whatever else needed to be done. When Forrest attended trade shows, she'd fly in and join him at the last minute because "somebody had to man the phones while he was traveling, and that became part of my job, too."
Lucas Oil grew into a well-known commodity in truck stops and auto parts stores. But it became a household name in 2006 when the Lucases agreed to a 20-year, $122 million deal to buy the naming rights for the new home of the Indianapolis Colts. That deal, she said, has been well worth the money.
Charlotte Lucas hasn't worked in the office for a while, but she's still working, traveling with Forrest and helping with the company's public image. They do a lot of personal appearances "to make sure we're remembered."
"It's hard work," she said. "I don't care if it's a fun event. We still work. Although we do enjoy ourselves, you're still working because you're still promoting your company and yourself and showing people that you are what you say you are. We don't want anybody to remotely think we're not the hard-working, honest people that we are. Because if you're not honest in business, you're not anything."
When she's not doing Lucas Oil business, Charlotte is likely spending time with family. The Lucases married in 1982—he had five children from his previous marriage, she had one. They had one child together, Morgan, who's a race car driver, and now have 17 grandchildren and 18 great-grandchildren. (Forrest's youngest son from his first marriage, Greg, died in 1997 at 35.)
She said she'd like to do more traveling. But the Lucases are busy tending to the many enterprises they own, including race tracks, a TV production company, the cable television network they bought (and are rebranding as American Real) and, of course, the oil business.
"I wish I could get Forrest to relax a little more, but he is an entrepreneur through and through," Charlotte said. "He gave me a two-week European vacation about six years ago for Christmas. We haven't done it yet. He loves what he does and he works hard at it. But we'll take it one of these days."•
_____
Click here to return to the Women of Influence landing page.
Please enable JavaScript to view this content.