Executive Director, IndyFringe Festival
Sphere of Influence: Moffat took a startup performing arts festival and grew it into a fixture on the local arts scene. It's now a vehicle for turning locals into playwrights and transforming the city's culture.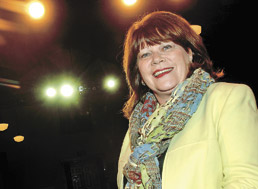 (IBJ Photo/ Perry Reichanadter)
Pauline Moffat didn't create the IndyFringe Festival. She simply used her marketing and public relations experience—and her force-of-nature personality—to make the 10-day annual event an integral part of Indianapolis' arts calendar.
"Don't tell me I can't do something," she said. "It's like you're waving a red flag in front of me."
Moffat arrived in Indianapolis from Australia in 2004, just after the Fringe was created. Within a year, she rose from volunteer to board member to director of the festival. Under her leadership, the festival has grown to 15,000 tickets sold in 2012, compared with 3,000 the first year, and returned $106,000 to the performers this year, compared with $38,000 in 2005.
She's also added to the festival (which might feature anything from tap-dancing plate-spinners to a troupe performing Sophocles, in the words of IBJ Arts & Entertainment editor Lou Harry) by continuing to create new outlets for potential participants. There was FringeNext for young performers working their way up, which was folded into the main festival; DIVAFest for female playwrights; OnyxFest, a new competition for African-American playwrights; and The IndyFringe Winter Magic Festival for magicians.
In 2013, IndyFringe plans to go into local schools to encourage a generation of buskers, or street performers—this after holding a successful Battle of the Buskers competition this year. The idea is to get students active in the festival and encourage them to stay in Indianapolis by providing a stage for them.
Moffat said the success of the festival can be traced to a combination of factors: downtown residents and visitors looking for new things to do, a board of directors that went out and beat the bushes for support, media attention, awards, a helpful push from Visit Indy and funds from, among others, the Central Indiana Community Foundation.
Not to mention a director who doesn't take no for an answer.
"My background is in marketing, pr and motor racing," Moffat said. "I had that instilled in me from a very young age that when the flag drops, you'd better be ready."
Moffat moved to Indianapolis with her husband, auto-racing engineer Lee Dykstra. (She has a son from a previous marriage, Andrew, a musician/teacher who lives in Australia; he has four grown daughters.) She agreed to relocate with one stipulation: They must live within 10 minutes of downtown.
"If you put me in a suburb," she said, "I will wither and die."
They live downtown, a couple of blocks from the IndyFringe Basile Theatre, 719 E. St. Clair St., an old church the festival moved into in 2009 and purchased last year.(Dykstra, Moffat's "No. 1 volunteer," supervised the restoration and renovation.) Buying the building, purchased with a gift from Frank and Katrina Basile, "stamped us as being part of the Downtown community," she said.
Now the Fringe is in the midst of a capital campaign to raise money to expand the building and, among other things, add public restrooms to the adjacent Cultural Trail, which currently has none.
"Does this take all my waking hours? Yes," Moffat said. "And all my willpower? Yes. But it's worth it."•
_____
Click here to return to the Women of Influence landing page.
Please enable JavaScript to view this content.