Chief Judge, Indiana Court of Appeals
Sphere of Influence: Robb leads the busiest appeals court in the state and mentors young lawyers.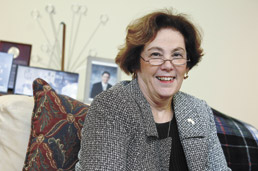 (IBJ Photo/ Perry Reichanadter)
As the first woman judge to be elected as chief judge of the Indiana Court of Appeals, Margret Robb is aware of its significance, but is not caught up in it.
"I would like to think that my colleagues voted for me because they thought I would do a good job," said Robb, who practiced law in Lafayette for 20 years before she was appointed to Indiana's second-highest court in 1998 by then-Gov. Frank O'BannonSphere of Influence:
. "I'm enormously proud to be a woman on the court, to be a woman as chief; someone had to be the first."
It's also important that someday a second and third woman be appointed to head the court, until it's no longer a big deal, she said.
That may take a while, however, as just eight women have served on the appellate court in its 112-year history, and five of those are serving now.
The chief judge is elected by the 15 judges who serve on the appellate court. "It's really the face of the court," Robb said of her position, which is for a three-year term and began in 2011. "When someone needs to speak, I address the issues that the court has made decisions on."
The court hears appeals of verdicts from the trial court level. While death penalty cases automatically go to the Indiana Supreme Court and tax cases to Indiana's Tax Court, the appellate court hears the bulk of cases.
Last year, its judges wrote 2,500 majority opinions, Robb said. And, while the Supreme Court decides what cases it will hear, the appeals court takes every appeal that's filed.
There is more to being a judge than hearing cases, of course.
"Mentoring is one of the reasons that I hire a new law clerk every year," said Robb, who studied law at the Indiana University Robert H. McKinney School of Law in Indianapolis. "I think part of my obligation is to mentor new lawyers." She and other judges on the court also host "externs," law students who volunteer in their chambers for school credit—and learn what appellate court is like.
"I was mentored by both men and women, and I think that's what makes a really good bar."
Currently, she serves on an American Bar Association committee that accredits law schools, and organizes the annual Indiana Continuing Legal Education seminars. An enthusiastic baseball fan, she is known for working in analogies to baseball when giving speeches.
She and her husband, Stephen Robb, live in Lafayette, where he is a communications professor at Purdue. They have one son, who attended the U.S. Naval Academy and is a lieutenant in the Navy.
She earned her bachelor's and master's degrees in business at Purdue. Her husband encouraged her to go to law school, "because there are so many things you can do with law, whether you practice it or go into business," she said. "It really is a good discipline for how you look at problems, how you resolve them."•
_____
Click here to return to the Women of Influence landing page.
Please enable JavaScript to view this content.