Finance chairwoman, Carmel City Council
Sphere of Influence: A long-time member of Carmel city government, Snyder is now chair of the city council's finance committee and plays a big role in figuring out how to pay for Carmel's ambitious goals.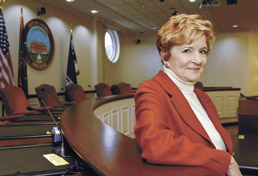 (IBJ Photo/ Perry Reichanadter)
Luci Snyder has been a member of the Carmel City Council for 17 of the past 21 years. During that time, the fast-growing city underwent a thorough and pricey makeover, from roundabouts and retail facelifts to construction of the Monon Community Center and the Center for the Performing Arts.
For most of that time, Snyder was also the only woman on the seven-member council. While the council was solidly Republican, its members were not necessarily of one mind. Five members represent districts with different interests and concerns, and two are at-large members.
"I think what I do best is work to gain consensus," Snyder said. To do that, you have to understand what your fellow council members need and offer support when they need it, she explained. When you are successful, you share the accolades.
In 2003, after 12 years as a council member, including three terms as president, she ran for mayor against incumbent Jim Brainard on the "we're spending too much money ticket," she recalled. "I lost handily." The burning issue at the time? Plans for the performing arts center.
"I wanted a multi-purpose venue and he wanted a fine concert hall," she said. Carmel got its fine concert hall, and Snyder stayed quiet—and out of office—for four years.
"That's what elections are all about," she said. "People tell you what they want, and since we don't live in the Balkans, we accept what they have said and we move on."
When she returned to city council in 2007, she became the chairwoman of the finance committee, putting her understanding and experience in municipal finance to use. She's on board with the publicly financed Center for the Performing Arts, which opened in 2011, and is determined to see it succeed.
"The mayor's job is the vision, and our job is to figure out how to pay for it," is how she describes the balance of power in city government.
After 20 years in commercial real estate, most recently with the Acorn Group, she left the business when she became finance chair.
Snyder attended Mundelein College in Chicago, a women-only school now part of Loyola University.
"It was very good for young women who were looking to find their place" and build confidence, without the social distractions of men. The message was "figure out what you wanted to do, learn what you needed to learn, graduate and go do it."
She married and taught school in Illinois, moving several times with her husband, Philip. Thirty-eight years ago, they arrived in Carmel, raised two sons, and embraced the comforts of suburban life. They got involved.
As a member of the board of the Hamilton County Humane Society, Snyder takes a few moments during council meetings to tempt animal lovers with pictures of a homeless pet looking for its "forever home."
Snyder is also on the board of the Hamilton County Alliance, an economic development group, and runs a small consulting firm.
She has mentored women in real estate. She has one piece of advice you may never hear from anyone else: "Never bring a handbag to a business meeting. Men are terrified of handbags."•
_____
Click here to return to the Women of Influence landing page.
Please enable JavaScript to view this content.