Senior Consultant and CEO, Johnson Grossnickle and Associates
Sphere of Influence: As head of one of the city's most successful philanthropy consulting firms, White has become a nationally respected expert on the not-for-profit world and the role of women in philanthropy.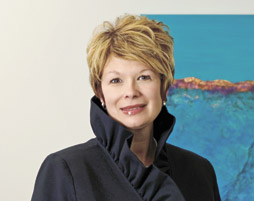 Photo courtesy of Johnson Grossnickle and Associates
Angela White traces her early success to her education at St. Mary-of-the-Woods College in Terre Haute.
"The Sisters of Providence had a huge impact on my life," said White, the CEO of the philanthropy consulting company Johnson Grossnickle and Associates in Greenwood. Her mother, a nurse-administrator, died of breast cancer during her freshman year, and the nuns nurtured the mind and soul of the young woman from Canton, Ill.
"At a women's college you learn the self-confidence that you can do anything you want, that you can be anything you want," she said. "You have strong women role models."
White worked in development at the school for eight years after graduating, eventually becoming vice president for institutional advancement and handling a $15 million capital campaign.
She left and joined the University of Indianapolis as executive director of advancement.
At Johnson Grossnickle and Associates—JGA—she advises not-for-profit clients in matters of fundraising and strategy. Since 1996, she has worked with dozens of local clients, including Cathedral High School, University of Indianapolis, Butler University, Sisters of Providence and the Women's Fund of Central Indiana, as well as national ones.
She is also a nationally recognized expert on women and philanthropy, and, as such, travels for speaking engagements.
There is no magic formula to fundraising, White said. After assessing the client's situation, and determining their strengths, JGA advises clients on how to approach fundraising. The firm doesn't do fundraising for the client.
"We work together and bring their expertise and value, come up with a joint solution of what works well for them," she explained, noting that what works for one client isn't necessarily the right thing for another. Many clients have become long-term clients. "The work changes, as do the clients' needs."
"I've had wonderful bosses, people who have really pushed me to grow," said White. In turn, she has mentored others. "Mostly I do it with people who are interested in moving into the non-profit field or moving up in it."
She and her husband, Matthew Donovan, who is the senior associate athletic director for development at UIndy, have two sons, Casey, 11, and Patrick, 8, who play a lot of sports. When the family is not running to practice or a game, they're attending sporting and other events at UIndy.
"I have long given up on work-life balance," said White, noting this is a challenge for many working parents. "I call it work-life integration. The juggling act is how it is."
Every day is different, but most of her time is accounted for "working with clients or being with my kids." Even her exercise time is shared with Wilson, the family golden retriever.
She is a cantor at her church, and one of the highlights of her choir experience was singing on the steps of St. Peter's Cathedral in Rome during the 2006 canonization of Blessed Mother Theodore Guerin—St. Theodora—the founder of St. Mary-of-the-Woods.•
_____
Click here to return to the Women of Influence landing page.
Please enable JavaScript to view this content.