var win = null; function NewWindow(mypage,myname,w,h,scroll){ LeftPosition = (screen.width) ? (screen.width-w)/2 : 0; TopPosition = (screen.height) ? (screen.height-h)/2 : 0; settings = 'height='+h+',width='+w+',top='+TopPosition+',left='+LeftPosition+',scrollbars='+scroll+',resizable' win = window.open(mypage,myname,settings) }
Mortgages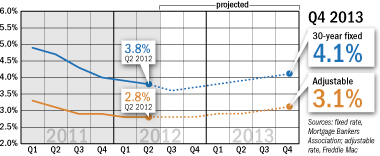 Looking ahead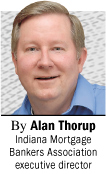 At its meeting in September, the Federal Reserve's Open Market Committee decided to purchase mortgage-backed securities at the rate of $40 billion a month. This should put downward pressure on longer-term rates, including those for mortgages. Additionally, notes from this meeting indicate the Federal Reserve's intention to keep rates low to at least mid-2015.
As of today, with the economy continuing to grow at a slow pace (1.3-percent increase in gross domestic product in the second quarter), mortgage rates are staying near all-time lows. Freddie Mac's weekly mortgage survey for mid October has the 30-year fixed rate at 3.39 percent and 0.7 percent in points and fees, and the 15-year fixed rate was at 2.7 percent with 0.6 percent in points and fees.
Additionally, as of September, Freddie Mac projected that the 30-year fixed rate will average 3.7 percent in the fourth quarter, with a gradual rise throughout 2013 to 4.1 percent.•
Housing Sales
July 1 – Sept. 30
Housing sales continue to climb in the quarter ended Sept. 30, a trend underway since January. However, activity slowed due to uncertainty over future health care costs and tax-cut extensions, said Jim Litten, president of brokerage F.C. Tucker Co. Momentum will recover after the uncertainty clears, Litten predicted.
Click here for a more detailed table of recent housing sales activity.•
Demographics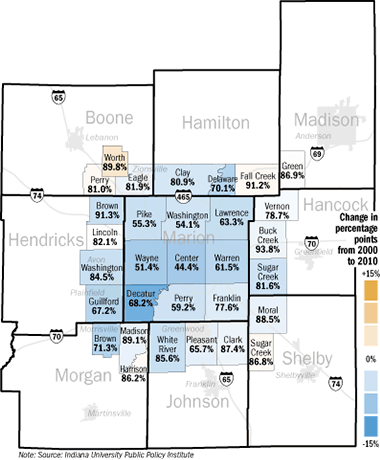 Home ownership
Homeownership is higher in suburban counties due to fewer foreclosures, but also because empty-nesters and new college graduates wanting to live in authentic urban neighborhoods often prefer to rent, said Drew Klacik, an analyst at the Indiana University Public Policy Institute.•
What you can buy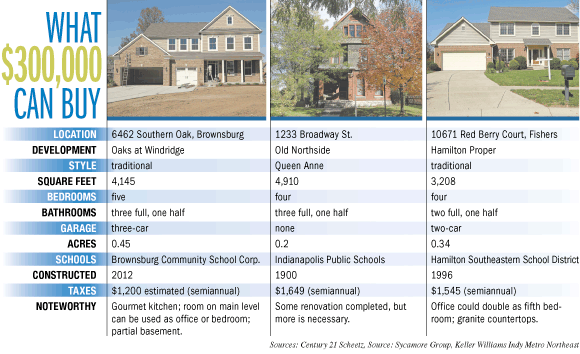 Most expensive sale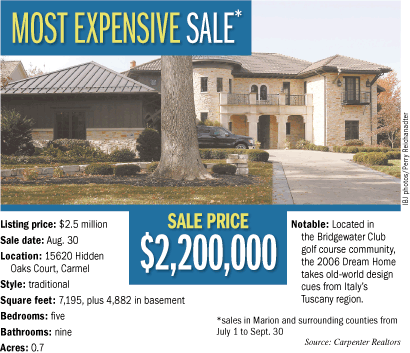 Neighborhood profile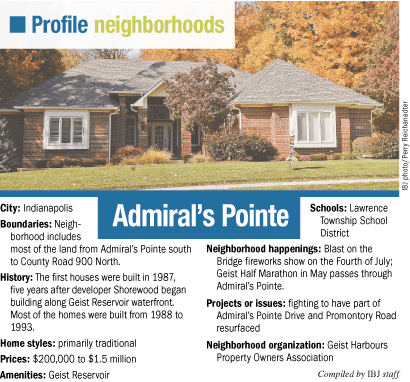 Please enable JavaScript to view this content.