A former ATA Airlines employee who's spent the last four years planning a membership-based airline may yet cobble together the capital needed for a late-2013 launch.

Christopher Allen and Amvest Financial Group have reached an agreement under which the Independence, Mo.-based investment banking firm will seek to raise $5.4 million for Legacy Travel Club.

Legacy would fly nonstop from Indianapolis International Airport to leisure destinations in the United States, Canada and Mexico, using MD-83 aircraft.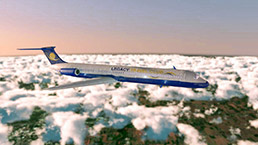 Upscale amenities and nonstop flights by MD-83 aircraft are core of Legacy Travel Club's plan. (Submitted photo)
The concept harkens back to the Ambassadair Travel Club founded in the early 1970s by Latvia native George Mikelsons, which later became ATA.

"It's a proven model. It's been done before," said Charles Oppenheimer, CEO of Amvest. "I'm very impressed with [Allen]. He has a passion for it. That makes a big difference."

Oppenheimer said most airline startups come knocking on the door for $50 million or $100 million, but that Allen's $5.4 million request "is a reasonable amount of money."

Oppenheimer apparently also was wooed by the positive feedback on Legacy's plan he received from investors in Allegiant Air, a Las Vegas-based carrier formed in the late 1990s that's focused on nonstop leisure destinations and vacation packages.

Allen has been unsuccessful at enticing local angel groups to invest. Local tech leaders who've complained about the lack of nonstop flights from Indianapolis also haven't been willing to put up cash for an upstart airline.

But Allen has had more promising interest from a half dozen individual investors and, together with Oppenheimer's pool, expects to have the $5.4 million in as little as six months.

In January, Allen is to meet with an aircraft leasing company to literally walk an aircraft bone yard in the desert Southwest in search of a candidate. Used aircraft are aplenty in the wake of airline mergers and the retirement of less fuel-efficient planes.

Allen already has planned a "test trip" in February to fly potential Legacy members from Indianapolis to St. John/St. Thomas in the U.S. Virgin Islands. He has reserved hotel rooms and a 134-seat Boeing 737.

So far, however, he is nowhere close to filling all those seats. He doesn't have a marketing budget, though he's tried to spread the word by addressing various groups in recent months, including the Venture Club of Indiana.

It also probably doesn't help that Allen, who works in the admissions department at IUPUI, lacks a reputation as a businessman.

But the entrepreneur, whose late father, Bruce, was a licensed pilot, said he has received positive vibes about the concept. He rattled off potential investors who have fond memories of Ambassadair when Mikelsons ran it and literally flew the airplane.

"We're talking about a rich history of [locally based] aviation in Indianapolis going back 41 years," Allen said.

Legacy's business plan contemplates about 25 employees (Allen already has received calls from several former ATA employees itching for possible jobs). Projected first-year revenue is $15 million.

Tapped as chief pilot is Geoff Brown, the ex-husband of former Ambassadair President Sally Brown Bassett. Allen said Legacy will be led by a president with experience in aviation operations.

The concept is to sell lifetime memberships, ranging from $1,000 to $5,000. Members also would pay per-flight fees. Top-tier members would be entitled to a number of discounted or free trips and other perks.

Taking a page from Mikelsons' old playbook, flights would be nonstop and serve leisure destinations. The level of service would exceed that of scheduled carriers these days, with amenities such as complimentary meals, booze, Wi-Fi, and free pillows and blankets.

Allen said the airline would help Indianapolis restore some of the nonstop flights it's lost in recent years due to airline mergers and route consolidation.

Nonstop daily service from Indianapolis International has fallen to 140 flights to 34 destinations, from 205 flights to 45 destinations in 2005.

City leaders have been worried the decrease in nonstop flights could imperil downtown's lucrative convention and visitors business.

"We have got to be able to get butts here," said Allen, who thinks Legacy might be able to provide some of that lift. "Commercial [scheduled] aviation is just not in an expansion mode."•