Soon after Lance Armstrong was stripped of his seven Tour de France titles, Indianapolis attorney Bill Bock sat in his ninth-floor office overlooking Monument Circle talking about, of all things, the Friday before the 2012 Super Bowl.

But Bock, 50, wasn't reminiscing about the city's hosting of one of the world's biggest sporting events.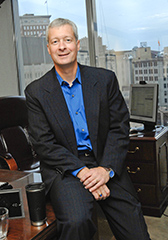 Bill Bock helped uncover the evidence that wrecked the career of cycling champion Lance Armstrong. But the Indianapolis attorney says he still feels for Armstrong and his family. (IBJ photo/Perry Reichanadter)
He was recalling the day when, as lead attorney for the U.S. Anti-Doping Agency, he embarked on a succession of 100-hour work weeks that led to the International Cycling Union's Oct. 22 dethroning of Armstrong.

Bock, a partner in the local law firm Kroger Gardis & Regas, estimated he's dedicated 95 percent of the last year to USADA's case against the famous cancer survivor and world cycling champion.

Though Bock has been working on the case for more than two years, what happened on Feb. 3 threw the USADA and Bock into high gear.

That was the day that, without explanation, Andre Birotte Jr., the U.S. attorney for the Central District of California, dropped the federal inquiry into doping allegations against Armstrong and his U.S. Postal Service-sponsored team.

The move seemed to deliver a death blow to the USADA's investigation.

"We were very surprised on Feb. 3," said Bock, who was born in Texas and raised the son of a Ball State University professor in Muncie. "Honestly, we were floored."

Bock still doesn't understand why federal prosecutors chose not to file charges. He knew well the mounting pile of evidence against Armstrong because he had helped compile a great deal of it.

Instead of grinding USADA's doping investigation to a halt, Birotte's pronouncement made USADA CEO Travis Tygart and Bock more determined than ever to find the truth.

That drive is what Bock used to convince 11 of Armstrong's former teammates on the U.S. Postal Service and Discovery Channel teams to testify against him. They said in sworn affidavits that Armstrong led a widespread, pervasive doping program for almost a decade.

A USADA report crafted largely by Bock called the scheme "the most sophisticated, professionalized and successful doping program that sport has ever seen."

Bock, a summa cum laude graduate of Oral Roberts University who later earned a law degree from the University of Michigan, teased confessions out of witness after witness who had been silent for years.

The riders found Bock, a father of five, trustworthy and—just as important—empathetic. When Bock visited Frankie Andreu, a former Armstrong teammate, at his home in Michigan last spring, his wife, Betsy, found Bock kind and comforting during a difficult situation.

"All he ever said was, we only want the truth," said Betsy, who also testified against Armstrong.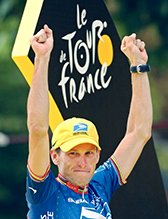 The USADA's Oct. 22 report said Lance Armstrong led a sophisticated doping ring on his U.S. Postal Service cycling team. (AP photo)
Tygart wouldn't say how much USADA pays Bock, but said it's less than 1/10th of what he would make if he were paid by the hour. USADA's 2010 IRS Form 990 income tax statement showed the Colorado Springs-based organization paid Bock's Indianapolis law firm $302,257 that year.

Tygart said Bock's work on behalf of international sports is priceless.

"Bill deserves the MVP for clean sport," he said.

The value of sports

So how did Bock come to the crossroads that would change the history of cycling?

Born in Orange, Texas, Bock grew up in Muncie loving sports and playing just about every one of them.

At Muncie Northside High School, he won three letters in golf and two in basketball. In college, he took up distance running.

Though Bock professes to have never been "a great athlete, I always thought it was an important way to convey values."

Those who know Bock said the value he placed on honesty and integrity has never waned.

"Bill is a person of impeccable character," said Norm Wain, general counsel and chief of business affairs for USA Track & Field. "He's not one that gets dissuaded by politics. He approaches each issue in the same methodical way."

Bock and other officials faced plenty of pressure to drop their case, not only from Armstrong and his attorneys and many of his cycling associates, but even from some members of Congress who wondered aloud the point of pursuing someone no longer in the sport.

The reason was simple, Bock said. Not only was Armstrong still involved in triathlons and running, but he also still profited from sponsorships associated with his cycling career. Besides, Bock and Tygart were eager to make the point that no one is above the rules.

"We've never dropped a case simply because someone retired," Bock said. "If we did that, we'd have a lot of retirements."

Bock, who in 2010 and 2011 assisted federal investigators in a doping investigation of baseball player Barry Bonds and track star Marion Jones, is no stranger to high-profile, pressure-packed cases.

While he's soft-spoken and quick to smile, Wain said, Bock is no softy.

"I wouldn't take his relaxed demeanor as not being aggressive at his job," Wain said. "His job is to chase down cheaters. His job is to look at allegations and vet them all. He takes the integrity of the sport and its athletes very seriously."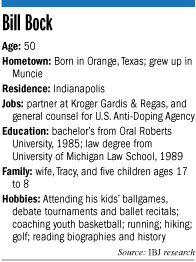 On the other side

Oddly, Bock started in the 1990s by representing athletes; a bobsledder, along with several in football, track and field, water skiing, wrestling—and, yes, cycling. He even defended some of them in doping cases—in some instances successfully.

He said he always encouraged athletes "to get on the right side of telling the truth."

As USADA was being formed in 2000, Bock gave a presentation on what the athletes would like to see from the not-for-profit that, in 2001, was recognized by Congress as "the official anti-doping agency for Olympic, Pan American and Paralympic sports in the U.S."

Over the years, Bock consulted for the organization and, in mid-2007, Tygart asked Bock to come aboard as general counsel. He took the job.

"This is a unique area of law," Tygart said. "It's not about who wins and who loses. It's about making sure sport is clean. And protecting the clean athletes that play those sports. You have to care about people. Bill is a natural fit."

Even those who know Bock only casually say there's little denying he has a soft spot for the athletes USADA governs—even those that run afoul of the rules.

Bock recounted how one of the first athletes—Floyd Landis—to provide testimony in the Armstrong case sighed with relief when he told his doping story. Bock spoke in halting tones of professional cyclist Dave Zabriskie's crying when he recounted the doping ring he and Armstrong were involved in.

Bock recalled with fondness the 2009 phone call from Kayle Leogrande, one of the first athletes found guilty of doping by USADA without positive dope-test results. Leogrande fought USADA during a months-long, bitter battle.

"He called to thank me," Bock said. "He said we did him a big favor by getting everything out in the open."

As for Armstrong, Bock's heart goes out to the man whose cycling legacy he has helped wreck.

"In some ways, I feel bad for him. I'm sure this has been a difficult few weeks for him—and his family," Bock said. "We offered him the chance to come in and get on the right side of this. He declined."

Not over yet

Though international sports agencies have upheld USADA's findings, the final curtain has not yet fallen on this astonishing saga.

Armstrong's team director, Johan Bruyneel, as well as a former team doctor and team trainer, are appealing the rulings in proceedings to be conducted by the American Arbitration Association. Bock—and the evidence he helped amass—will be central to those hearings likely to be held in the next few months.

There's also a chance Armstrong could sue USADA and/or Bock, but Bock has other things on his mind.

He and Tygart hope the investigation is the beginning of ridding cycling and other sports of doping.

Even if sports become cleaner, Bock wouldn't encourage his children to pursue careers as professional athletes.

"I don't think that [professional sports] is necessarily the highest calling," he said. "It's easy to get distracted by the glitz and the glamour. … You should be involved in sports because you love competing. And for a love of the game."•