The state lost an estimated 1,400 manufacturing jobs in September, the U.S. Bureau of Labor Statistics reported, and a wave of layoff announcements in recent weeks suggests steeper declines are coming in the year's final quarter.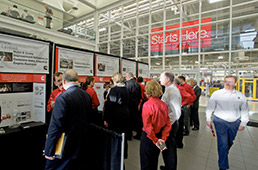 Cummins' outlook has darkened since the company's annual meeting in May. CEO Tom Linebarger said then that sales might rise from $18 billion to $30 billion by 2015. (AP photo)
Since Indiana manufacturing employment jumped by 4,300 jobs in April, the sector's recovery has stalled, leaving the market hovering around 486,000.
The lost momentum is a bad sign for the overall Indiana economy. Though state manufacturing employment is 270,000 below its 1973 peak, the sector continues to provide one in six Hoosier jobs.
Things likely will get worse as some of Indiana's largest companies endure Europe's financial crisis and growth slows in emerging markets such as China, economists said.
"We're going off a cliff," said Michael Hicks, director of the Center for Business and Economic Research at Ball State University. "The question is, do we go off like Thelma and Louise, or do we go off with a rope and belay team?"

Hicks
Some big Hoosier employers in October cast a shadow over their upcoming third-quarter earnings reports by lowering their outlooks and announcing layoffs.
Columbus-based diesel-engine maker Cummins Inc. on Oct. 9 sliced its 2012 sales forecast from $18 billion to $17 billion and said it was eliminating up to 1,500 of its 44,000 jobs.
The cuts include at least 150 jobs at Cummins' southern Indiana factories. The company employs about 7,700 in the state.
A day later, Evansville-based Accuride Corp., a heavy-duty-truck supplier, cut its forecast and announced layoffs. Without giving specifics, the company said it would expedite the closure of its Elkhart plant and accelerate the consolidation of other operations into a Rockford, Ill., facility.
Peoria, Ill.-based Caterpillar Inc. in August announced 167 layoffs at its Lafayette plant, where it has more than 2,000 workers. On Oct. 22, the construction and mining equipment manufacturer reduced its outlook for 2013 despite reporting that third-quarter profit rose 49 percent, to $1.7 billion.
The good news, according to Bill Strauss, an economist at the Federal Reserve Bank of Chicago, is that the sector's looming recession won't be nearly as severe or last nearly as long as the one in 2008 and 2009.
"We're sensing more of a temporary issue," said Strauss, who monitors manufacturing throughout the Midwest. "Certainly with regard to activity like at Cummins, not every company is going to hit the ball out of the park every single year."
Jobs in neutral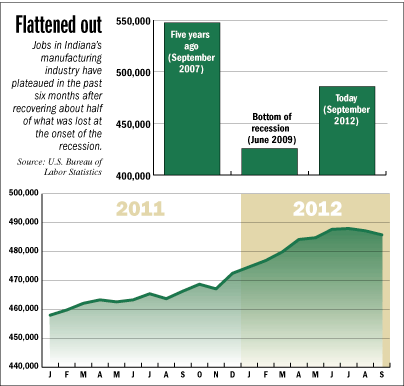 The manufacturing recovery stalled this spring after the sector had gained back about half the jobs it lost during the deep recession.
Manufacturing employment as of September was about 60,000 jobs higher than it was when employment bottomed out at 425,700 jobs in June 2009, according to the U.S. Bureau of Labor Statistics.
In the past six months, companies have notified the Indiana Department of Workforce Development of plans to eliminate more than 3,900 jobs through mass layoffs, one-third of them in manufacturing. The total layoffs are about 800 higher than for all of 2011.
Most of the cuts will occur by the end of the year, if they haven't happened already, according to the notifications. But some of the layoffs and plant closures aren't scheduled to wrap up until 2014.
Precision cuts
Many companies in 2009 unleashed sweeping cuts, which positioned them to survive the recession and emerge with more efficient operations, Hicks said.
This time around, however, he thinks employers will scrutinize their budgets and consider alternatives to layoffs, such as furloughs.
"They're going to do things not to cause permanent labor market disruption," he said.
Cummins is taking that approach with its cuts.
"Obviously, you have to prioritize projects and initiatives. Demand is different at different plants and in different markets and in different areas," Cummins spokesman Jon Mills said.
He would not say which areas of the company have positions in jeopardy.
"It's going to be careful and thoughtful," he added. "We realize this is difficult. It's difficult for the workers, difficult for the company."
Automotive 'safety net'
The relative strength of the auto industry, which provided about 20 percent of the state's manufacturing jobs in 2011, likely will shield Indiana from even deeper job losses, economists say.
Low sales in 2008 and 2009 resulted in pent-up demand, analysts say, which helped push vehicle sales for the first nine months of 2012 up 14.5 percent from a year earlier. That put the seasonally adjusted annual sales rate just shy of 15 million cars by the end of this year.
"We have the auto sector as kind of our safety net, at least temporarily," said Tim Slaper, director of economic analysis for the Indiana Business Research Center at Indiana University.
"They're saying 15 million unit projections—that's a good psychological threshold. Because the fleet out there is getting older and older, it has to be replaced."
Automotive companies throughout the state are gearing up for the momentum to continue.
In September, Subaru of Indiana Automotive said it might boost production of the Outback and Legacy at its 3,600-worker plant in Lafayette.
Honda Manufacturing of Indiana in Greensburg said it is spending $40 million at its 2,000-employee Greensburg plant to increase Civic production capacity 25 percent.
And Chrysler Group LLC is preparing to launch production of eight-speed transmissions in Kokomo at year-end.
Production of nine-speed transmissions will launch next year. The company is investing $1.3 billion in Kokomo, where it employs 5,200 at four factories.
Chrysler's sales rose 24 percent in the first nine months of the year, and company spokeswoman Jodi Tinson expressed confidence the good times would continue.
"I don't see the auto industry slowing down," Tinson said. "We're continuing to pump out cars. All our assembly plants are working overtime."•
Please enable JavaScript to view this content.