The goal is lofty, but resources are limited.
Members of the Indy Hunger Network knew it would take discipline when they set the goal of feeding 185 million meals every year—27 million more than they do now—by 2015.
So the group—a coalition of leaders from companies, not-for-profits and government agencies that in some way feed needy people—called in the black belts.
Organizations in the Indy Hunger Network have adopted Six Sigma, a set of efficiency principles that originated in the 1980s on factory floors. Those most skilled in the approach borrow the title black belts from martial arts.
The not-for-profits in the hunger network are using the data-driven methodology to increase services 17 percent in three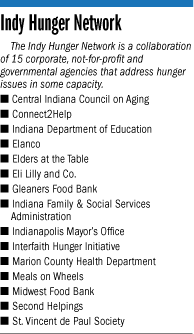 years without buckling to increased costs.
Indy Hunger Network Chairman Dave Miner, a chemist by trade who moved around management positions at Eli Lilly and Co. before retiring in 2008, said the group set the goal for itself while realizing operations needed to change at its 15 member organizations.
So the network—which has Eli Lilly and its animal health division, Elanco, as members—tapped the Indianapolis-based pharmaceutical giant's Six Sigma gurus.
About two years ago, a half dozen of the efficiency experts began honing in on one or two programs at a time, among them Gleaners Food Bank of Indiana's BackSacks initiative.
In 2010, the service provided 2,000 backpacks of food weekly to children so they could eat properly over weekends, when they couldn't access the federally funded school lunch programs.
Then the black belts took a look at the program.
"What we found, to say it very bluntly—there was no process," Miner said.
By 2011, the food bank gave out 10,000 bags a week.
 

Hubert
Gleaners CEO Cindy Hubert said the Six Sigma experts identified a need for a conveyor system. Instead of volunteers and staff members filling sacks one at a time, the conveyor allowed for factory-like assembly.
In addition, the Six Sigma team developed a questionnaire for schools to help identify children needing the backpacks: Are the kids pushy in lunch lines? Do they horde food? Are they showing physical symptoms of hunger?
"They made us far more professional," Hubert said.
Kenneth Savin—a black belt who helped Indy Hunger Network reach more kids with its breakfast programs—said Six Sigma improves not-for-profits' operations the same ways it did at Lilly, even though the applications are far different.
"The tools are very general. Black belts are usually very good at identifying the same types of problems—they look for a certain type of waste," he said.
Classes for Six Sigma and similar disciplines, which take about six months to complete at Ivy Tech Community College, haven't caught on as much at charities as they have on factory floors. But non-manufacturers began inquiring more about the concept two years ago, said Stephanie Taylor, executive director of the corporate college at Ivy Tech–Central Indiana.
"I would say it's growing. Is it going to blow up in that sector anytime soon? I don't know," Taylor said. "But I will say the more forward-thinking folks are embracing it."
The for-profit companies in the Indy Hunger Network provide time off for volunteering, a philosophy that may help with employee recruitment and morale.
Savin said he has an "unspoken rule" with his bosses and co-workers that he will be gone three hours every other Monday to work with the Indy Hunger Network.

Simmons
Elanco President Jeff Simmons said Lilly began granting time off for volunteer projects after initiating its annual Global Day of Service in 2008.
"What we've simply done is say, 'That [one day] is not enough,'" said Simmons, who is also a Lilly vice president.
Miner said the Indy Hunger Network is promoting Lilly's and Elanco's message to other companies because the group needs help from more businesses to reach its 185-million-meal goal by 2015.
"Organizations may not want to give money, but if they have people with the right skill sets, that could be huge for us," he said.•
Please enable JavaScript to view this content.