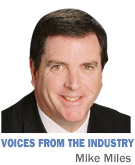 The perspective from a benefits adviser is always interesting. I am in the middle of the health care discussion, helping organizations meet the benefits needs of the employee, while staying aligned with the strategic needs of the organization.
It's from that vantage point that I see two very different reactions to the implementation of "Obamacare," more formally known as the Patient Protection and Affordable Care Act.
Many hoped the act would not be signed into law. They then hoped the Supreme Court would resolve the situation, but the court let it stand. Then they hoped a different president could repeal it. Now, everyone must confront the issue.
Some business leaders continue to avoid for as long as possible the health insurance issues looming on the horizon. Others are coming out of the trenches and dealing with the "new world of benefits."
Simply put, after this past election the act remains the law, and organizations must begin to prepare for Jan. 1, 2014, when its key provisions take full effect.
How each employer responds will have a significant impact on their competitive advantage for years to come. Why? Here are some key points to consider.
The Department of Health and Human Services will shape much of the guidance on how the act is ultimately implemented. Many of the law's finer details were held back by the department until the election outcome was determined.
While the final rules have been delayed, the deadlines have not moved. The regulations will create hard and fast target dates for 2014 implementation, and the impacts are already being felt.
Anyone can run the projected insurance rates or use an online calculator, but there are many moving parts that make the calculations difficult for employers to figure out, as some internal human relations or finance staff may realize.
For example, there are new regulations on what must be contained in a benefits package, with a new threshold of 30 hours per week for semi-mandatory coverage.
Anecdotally, we hear talk of employers that might consider converting some employees from full-time status to less than 30 hours for the sole purpose of excluding them from coverage. But Employee Retirement Income Security Act regulations may make that a dicey strategy. Plus, how would that affect employee engagement or retention for organizations wanting to be an employer of choice?
More questions exist in the insurance exchanges. Indiana is opting out of building an exchange, meaning the federal government will set up our exchange, with enrollment starting about a year from now.
What should organizations do in early 2013?
• If you don't have a strategic benefits plan, write one. Strategic planning will include evaluating "pay or play" decisions and considering the implementation of defined contribution strategies.
• Develop wellness and well-being strategies to get a healthier, more engaged and safer work force.
• Explore and promote new "transparency tools" to help employees and their covered family members make better decisions on where to get lower-cost and better-quality medical care. Note: This will be a trend.
• Add supplemental voluntary benefits to the employee benefits mix, such as life insurance, disability and critical illness coverage. These policies are paid for (and highly valued by) employees to help fill the void that occurs as employers move toward higher-deductible health plans or drop more traditional employer-paid coverage.
These options align with the needs of most organizations as the act is implemented into modern business.
Congress and Health and Human Services will certainly make adjustments as the rollout occurs and Congress hears from its constituents on the good and the bad.
Until then, focus on what you can control.•
__________
Miles is a vice president at Gregory & Appel in Indianapolis. Views expressed here are the writer's.
Please enable JavaScript to view this content.