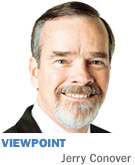 It's no secret that Indiana's factory workers took more lumps during the Great Recession than workers in other sectors, with nearly 120,000 losing their jobs. Indeed, from the state's manufacturing employment peak at the start of the century, our factories had shed a quarter million jobs by the recession's end.
Much of this shrinkage was the result of the long-term restructuring of manufacturing, an industry that's become much more productive and, as a result, doesn't need as many workers as it once did to make a given number of widgets. And some is due to lower-value-added jobs moving overseas, where labor costs are dirt cheap.
What many have not noticed, however, is the rebound of Indiana manufacturing since the recovery began in mid-2009, a period during which Hoosier factories added more than 60,000 workers. Granted, this is only half of the jobs we lost, but it's a gain most other states would gladly take. And Indiana remains the most manufacturing-intensive state in the nation in terms of employment, employing more than one in every six Hoosier payroll workers.
Moreover, our increasing factory employment is the biggest contributor to the state's rising personal income, which has grown recently at a faster pace than the nation's (though we're still far behind the U.S. on a per-capita basis).
The average Hoosier manufacturing job paid $55,398 last year, 38 percent more than the average of all Indiana jobs. And average factory pay this year is rising more quickly than ever, growing in the first quarter more than $2,200 on an annual basis. Over the last decade, annual raises for our state's factory workers have been 57 percent higher on average than for all workers.
Thus, the manufacturing pay premium is growing.
Manufacturing not only pays well, it also is the largest sector in Indiana's economy in terms of output, or state gross domestic product, which last year totaled more than $278 billion in current dollars. Manufacturing generated about 27 percent of Indiana's GDP, a far larger share than any other economic sector, and high enough to rank our state second nationally.
But wait, you're thinking—isn't Indiana also ranked first regarding manufacturing's share of the state economy, as it is with share of employment?
Well, for many years, Indiana was the national leader on both rankings, but an interloper has emerged from nowhere to rapidly overtake Indiana and assume the title of most manufacturing-intensive state with regard to output. It's been an awe-inspiring sprint.
In 2001, Oregon's factory output was less than a quarter the size of ours, under 11 percent of that state's economy, but it's grown by leaps and bounds every year since. Last year, Oregon's manufacturing GDP was $10 billion larger than Indiana's, composing 40 percent of that state's total.
How have they done this in just a decade? Their economic development path is really a lesson for another day, but the main engine driving Oregon's incredible economic growth has been computer and electronic manufacturing—high-value-added production that pays far above average wages, and that ripples through much of the rest of the state economy.
Meanwhile, back home again in Indiana, our factories give us much to be thankful for. Factory jobs have set the pace for Indiana's impressive recent employment growth, with overall employment up about 60,000 jobs compared to a year ago.
Those jobs are also putting a lot more money into Hoosiers' pockets, which winds up in the cash registers of many other businesses and ultimately in their employees' paychecks, raising the state's standard of living in the process.
Indiana certainly needs to continue focusing economic development efforts on creating and expanding high-value-added manufacturing businesses. This is not an easy game, and it's carried out on a highly competitive playing field nationally.
But the momentum is in our favor, once again reinforcing the belief that Indiana is a place that knows how to make things … happen.•
__________
Conover is director of the Indiana Business Research Center in the Kelley School of Business at Indiana University. Views expressed here are the writer's.
Please enable JavaScript to view this content.