Sales of Andrew Luck's No. 12 Indianapolis Colts jersey are soaring. And with the holiday season approaching, team officials think they will climb even higher.

Officials for MainGate Inc., the Indianapolis company that handles Colts merchandise sales locally and online, recently told IBJ that 67 percent of all Colts jerseys sold this year are emblazoned with No. 12. Luck's jersey outsells the second-most-popular Colt 10-to-1, according to CEO Dave Moroknek. Colts officials declined to say what Colts jersey was the second-best-seller.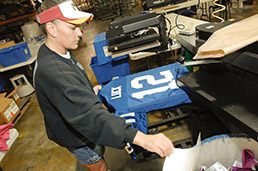 Quarterback Andrew Luck's jersey ranks No. 6 in sales among all NFL players. (IBJ File Photo)
Moroknek said early indicators are that Luck's jersey will be the top-selling item this December.

The jerseys are also becoming popular outside central Indiana.

Fanatics.com, a top seller of officially licensed sports apparel, reported that Luck's jersey ranked eighth among all professional athletes in cyber Monday sales—ahead of such stars as New Orleans Saints quarterback Drew Brees and L.A. Lakers star Kobe Bryant.

Luck's popularity has grown steadily this season, with his jersey No. 6 in sales among all NFL players, league officials said.

A few interesting names were ahead of Luck on the Fanatics.com top 10 list for cyber Monday. No. 1 was Robert Griffin III's Washington Redskins jersey and No. 2 was former Colt Peyton Manning's No. 18 Denver Broncos jersey.

Griffin was chosen second in this year's draft behind Luck.

Sports marketers said Luck's popularity has as much to do with his down-to-earth nature and carefully crafted public image as it does with his prowess on the football field.

Luck has been slow and methodical in his business deals, making his first big splash this fall with Riley Hospital for Children and recently coming out with a campaign for the Indianapolis-Marion County Public Library.