The redo of the Food Court at the Fashion Mall comes about 10 years past its due date, but the results are truly transformational. The former corridor of mediocrity that connected the two sections of the mall can't compare with the new area, with comfortable seating, indoor and outdoor tables, and lots of open space.
New tenants include the salad and burritos chain Freshii, the yogurt dispenser Pinkberry and, soon, Ban (from the makers of Naked Tchopstix) and a new Napolese outpost.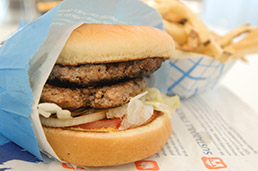 Double-decker burgers and fresh cut fries help Elevation Burger rise above other chains. (IBJ Photo/ Perry Reichanadter)
The highest-profile newbie, though, is Elevation Burger (8702 Keystone Crossing, 660-8103), which comes with an impressive commitment to sustainability. It makes its titular sandwich from organic, grass-fed, free-range, ground-on-premises beef. Its fries are cooked in olive oil. It crafts its venues with Energy-Star-rated appliances and finishes its décor with renewable materials. Add in an aggressive recycling policy (for instance, the used olive oil goes biodiesel when Elevation is done with it), and you have a Nuvo cover story just waiting to happen.
I just wish the burgers were outstanding.
We settled for merely good. The beef on the double-decker Elevation Burger ($5.29) has a natural crumble to it and the menu of toppings is substantial even if the powdery roll doesn't add anything to the equation. Stacking two makes for a tricky balancing act (these aren't Steak 'n Shake-size patties), but the quality of the ingredients certainly brings less guilt than a lesser, fast-food burger.
Side note: I'm of the belief that you can't just slap a piece of cheese on and call it a cheeseburger (as I witnessed here). It needs to be melted in.
I appreciate thin, fresh-cut, lightly salted fries—which Elevation Burgers are—but I would have liked them more if they hadn't been chilling in their cardboard carrier waiting for their accompanying burger to be done. Covering them with a napkin doesn't keep them warm. Doing it in full view is just, well, amateur.
Other menu options include a smallish Grilled Cheese Sandwich ($4.28) to which you can add any of the burger toppings, and the Veggie Burger #1 and Veggie Burger #2 ($4.49), the difference being that the latter is vegan. The Malt ($4.19) was refreshing, but arrived with a surface level about a third of the way from the top of the cup. An unexciting small Cookie ($1.49) reminded me why most people prefer unhealthful indulgences.
We assume most of the problems will be ironed out in short order.
Still, Elevation Burger rises above most other mall food court offerings. And one of the pleasures of a food court is that you can make a meal from multiple counters. An Elevation Burger and a Pinkberry yogurt sounds pretty refreshing.•
—Lou Harry
__________
First in a month-long series of reviews of late-in-the-year restaurant newcomers.
 
Please enable JavaScript to view this content.