A Democrat-sponsored bill would require all late-night convenience stores to include safety requirements such as security cameras and height markers, while imposing stricter rules on retailers that experience crimes.
The tougher measures would include installing bulletproof glass or hiring guards, among other options under the bill, which state Rep. Ed DeLaney plans to file in January.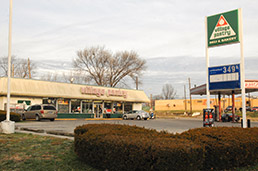 This Village Pantry at 1402 S. Meridian St. has reported 32 robberies since 2000. (IBJ file photo)
DeLaney drafted the legislation, which industry lobbyists are criticizing as "unreasonable," in response to the October 2011 shooting of a Village Pantry clerk.
The Indianapolis Democrat would need the blessing of the Republican super-majority for the bill to become law. He said he is seeking co-sponsors from both parties.
"I think we've had enough incidents," he said. "We need the members [of the Legislature] to look at those incidents, the cost of those incidents."
DeLaney became involved after Village Pantry clerk Marcella Birnell was shot in the head while working the overnight shift alone at the 1416 W. 86th St. store.
The robbery was at least the sixth Birnell experienced at that store or another at 4921 W. 71st St.

DeLaney
A Marion County judge in April sentenced the perpetrator, 16-year-old Brandon Payton, to 35 years in prison.
Birnell, 46, survived but is struggling to recover from severe brain trauma, said Theresia Whitfield, a family friend and spokeswoman.
"Physically, she looks and acts fabulous," Whitfield said. "She has no problems walking or maneuvering in any way. It's the cognitive skills that are lacking. … You can try to have a conversation with her, and she doesn't understand."
A state investigation—spurred by the fatal shooting of a 62-year-old clerk at the 1402 S. Meridian St. Village Pantry in 2009—found Birnell's run-ins with robbers weren't unusual. The probe found the South Meridian store had been involved in 32 robberies involving force since 2000.
The North Carolina-based convenience store chain settled that inquiry by paying a $7,000 fine and agreeing to submit quarterly safety reports through 2014.
DeLaney drafted the bill after participating in the Late Night Retail Working Group, a panel of mostly government and industry representatives that met several times this spring to discuss security concerns and possible solutions.
Modeled after a 1992 Florida law, DeLaney's proposal has two tiers of regulations: a set for all stores and an additional set for stores where crimes happen.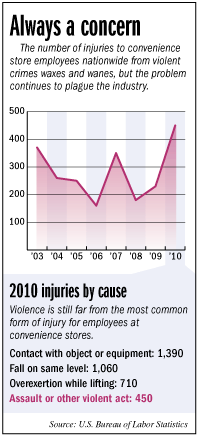 Two tiers of rules
The bill applies to "convenience businesses," defined as stores that primarily sell groceries, or groceries and gas, and are open from 11 p.m. to 5 a.m. The law does not cover restaurants or stores with five or more employees working during those hours.
The lighter set of rules mandates that convenience stores have security cameras, drop safes or cash-management devices, lit parking lots, notices saying that no more than $50 is in cash registers, windows with clear views, height markers at entrances, and policies limiting the amount of cash on hand overnight.
All stores also must train their employees, following a state-set curriculum, on robbery deterrence and safety.
More rules would kick in at stores encountering crimes that Indiana law describes as "offenses against the person," such as robbery, assault or homicide.
DeLaney's bill does not include "sex crimes," such as rape. But when asked why it was not in the language, he said he would consider adding the category.
The law requires stores falling under the tougher restrictions to choose one of five options from 11 p.m. to 5 a.m.: Have at least two employees working; install a bulletproof enclosure for employees; have a security guard at the store; lock the doors and conduct business through pass-through troughs, trapdoors or windows; or close altogether during those hours.
Stores that go two years without another crime covered by the law can file for exemptions to the more extreme requirements.
DeLaney said the two levels of regulations give flexibility to stores that have low crime risk.
"The experiences around the country seem to indicate that some locations have more problems than others," he said. "We're trying to balance the size of the regulatory burden versus the risk. This seems to be the best balance that we could come up with."
Enforcing the law would fall to the Indiana Occupational Safety and Health Administration, part of the Indiana Department of Labor.
"The Department of Labor has strongly advocated for the safety of late-night retail workers, but does not comment on proposed litigation," department spokesman Bob Dittmer wrote in an e-mail.
'Overly broad'
For DeLaney's bill to become law, supporters must win over the powerful GOP caucus.
Rep. Jerry Torr, a Hamilton County Republican, doubted the measure would get a hearing in the Employment, Labor and Pensions Committee, where he has previously served.
"There may be some bad actors out there," Torr said. "To throw everybody in the same basket and require these things by statute is just overly broad.
"Most employers will protect their employees. And employees, they can look at the situation and decide if they feel safe. Employees work there voluntarily."
His position echoes what trade associations argued in the Late Night Retail Working Group's report in June.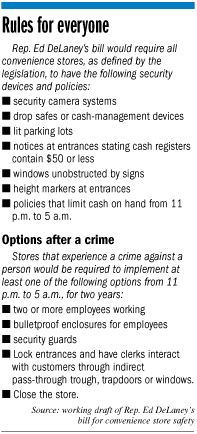 The Indiana Petroleum Marketers and Convenience Store Association said there is a lack of definitive evidence that many of the security measures the working group discussed—some of which are in DeLaney's bill—deter crime or protect workers.
For example, having two clerks could cause a dangerous situation to escalate, said Scot Imus, the association's executive director.
"With two clerks, what you will have … is, the person holding the gun is already edgy, is jumpy," he said. "And he will go off or she will go off because they're amped up. You can very well wind up with two victims instead of one."
He said in a later e-mail that it is surprising the bill includes only convenience stores, even though robberies happen everywhere—from banks to ice cream stores.
The tougher regulations for stores that have crimes are unreasonable, he added.
"Under this scenario, a small-town convenience store that had been operating for over 40 years without a single incident could suddenly be forced to comply with expensive government-prescribed safety mandates just because it fell victim to a single robbery attempt," he wrote.
The opposition of retailers in the working group to increased regulation left advocates for reform feeling disappointed, said Whitfield, the spokeswoman for Birnell's family.
"Unfortunately, the convenience stores felt like this just wasn't an option for them," she said. "We're really baffled by that kind of mentality. For us, it's, 'What's your business worth versus what's the worth of a life?'"
DeLaney acknowledged his bill likely will undergo changes before he files it.
"I'm pretty firm on this deal that, if you've had a bad history, you have to take a serious step," he said. "Other than that, I'm prepared to discuss."•
Please enable JavaScript to view this content.