Zionsville jeweler Brian McCall buys and sells gold by the pile.
The owner of Midwest Estate Buyers said he pays out as much as $100,000 a week, mainly to other dealers who bring their goods to his store from around Indianapolis. McCall photographs everything, but he reports none of it to electronic databases used by law enforcement agencies, and it's all melted down within days, he said.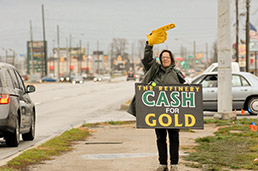 Kay Alimanestiano tries to persuade motorists to sell to Indy Gold, 5971 E. 82nd St. (IBJ photo/Perry Reichanadter)
State lawmakers and Indianapolis officials are looking to regulate the gold-buying business, which police say provides an easy outlet for stolen goods. Cash-for-gold stores have multiplied as prices more than doubled since 2007. Gold hit its peak of $1,858 an ounce in September 2011, but it's still trading around $1,700 per ounce.
McCall supports lawmakers' effort to get a grip on the booming, sometimes fly-by-night industry.
"The law probably needs to be uniform statewide," he said.
State Rep. Gail Riecken, D-Evansville, intends to file a bill that would require all precious-metals dealers to register with the Secretary of State's Office and local law enforcement, hold goods for seven days, and report their purchases to law enforcement. Her bill also would require dealers to operate from a fixed location, which would eliminate hotel-based buyers.
Riecken filed a similar bill in 2011, and she's reviving the effort this year at the urging of pawnbrokers and gold buyers.
"The ones who are legitimate and would never accept anything that has been stolen feel there has been a negative image about their business," Riecken said.
Riecken hopes she can persuade a Senate Republican to file a companion bill. She thinks there will be plenty of interest, since cities like Evansville and Indianapolis are taking on the issue.
Evansville passed an ordinance early this year that includes a 10-day holding period.
In Indianapolis, precious-metals dealers would be included in an updated ordinance for the scrap-metal industry, city prosecutor Helen Marchal said. The proposal, sponsored by city-county councilors Jeff Miller and Brian Mahern, is likely to be introduced early next year, she said.
The measure would track closely with a new law on flea-market merchants, Marchal said. The vendors will have to get business licenses, record descriptions of goods, take ID and vehicle descriptions from people selling secondhand goods, and hold items for 10 days before reselling them.
A holding period could throw a wrench into the gold-dealing business because it's so price-sensitive, McCall said. He thinks dealers who aren't well-capitalized would go under for lack of cash flow.
One gold buyer said it's not the industry's job to stop crime.
"There ain't no way you can police it," said Randy Robinson, who owns four Indy Gold and Silver shops in Shelbyville, Greensburg and Indianapolis. "All you can do is pass a bunch of laws, knock people out of business."
Robinson, who also owns Randy's Auto Sales in Shelbyville, said gold prices are so high that people will continue to find buyers, through word-of-mouth or online, but avoid regulated stores.
Northeast Indianapolis residents started taking notice of cash-for-gold stores after a spike in burglaries last summer, said Mark Dollase, president of the Greater Allisonville Community Council.
One of the area's high-profile crimes was the home invasion and shooting of Gary Thrapp, a jeweler. That, along with a fatal shooting at the Villa Paree apartment complex, got residents talking and comparing notes on burglaries, Dollase said. They started to wonder whether they're easy targets for thieves traveling 82nd Street, which is also home to several cash-for-gold stores.
"Jewelry has always been an easy target," said Michael Hewitt, a public information officer with the Indianapolis Metropolitan Police Department.
While there's no increase in burglaries targeting jewelry, he said, "There is a changing trend in how some thieves are getting rid of jewelry … that of course is the cash-for-gold businesses that seem to be popping up everywhere."
Hewitt said IMPD has investigated stores for receiving stolen property, but the cases were impeded by the fact that the gold is melted down immediately. He cautioned against painting all cash-for-gold stores as illegitimate, but said he hopes the city can come up with regulations soon.
Through Dec. 1, residential burglaries citywide were up 1.5 percent from the same period a year earlier, according to preliminary IMPD statistics. The stats show big declines in some areas but significant increases in three police districts: north (7 percent), southeast (13.5 percent) and downtown (16 percent).
Democratic Rep. Christina Hale said worries about break-ins were on the lips of northeast Indianapolis residents as she campaigned door-to-door last summer. Hale said it seems like a logical step to make stolen goods more traceable.
"Right now, it's pretty anonymous," she said.
Hale said that if she doesn't file a separate bill, she'll sign onto Riecken's. "It seems to be a bigger problem than just the northeast side of Indianapolis."•
 
Please enable JavaScript to view this content.