The dramatic on-field improvement of the Indianapolis Colts has reversed what looked in early October like a bleak scenario for the team's sales staff.
The Colts were coming off one of their worst seasons since moving here in 1984, then lost two of their first three games. Meanwhile, 4,300 of the 7,100 club seats at Lucas Oil Stadium were up for renewal.
The stakes were high, because the multi-year contracts for the pricey club seats contribute mightily to in-stadium revenue.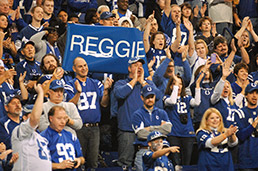 With club-seat renewals for next season over 90 percent and the waiting list for season tickets growing, the Colts should have no problem selling out Lucas Oil Stadium in 2013.(IBJ Photo/ Perry Reichanadter)
Almost magically, the clouds began to dissipate following a come-from-behind home win Oct. 7 over Green Bay.
"Last year was a tough year, so coming into this season, we were just hoping the games would be entertaining," said Colts season-ticket holder Spenser Hanson, 24. "I definitely didn't expect wins."
Season-ticket holder Ben Coe, 25, said the change in attitudes has been "dramatic."
"Last year, there was a defeatist attitude among the fans," said Coe, a sales agent for Shepherd Insurance and Financial Services. "This year, the energy inside Lucas Oil Stadium is much more positive."
The team won five of six as the Colts began their club-seat renewal effort, which ended late last month. The renewal rate soared above 90 percent, according to Colts Chief Operating Officer Pete Ward.
And demand for all tickets is on the rise. Enough seats are already sold for the Dec. 30 home game to lift the TV blackout. Earlier this season, that mark wasn't hit until a few days before home games.
Merchandise sales are also up, 38 percent over last year. Sponsorship sales are up 8 percent. New sponsors include Barclays bank; US Foods; and CDW, a Carmel-based information technology firm.
"The combination of the team performing above expectations, having the number one pick [Andrew Luck] who is playing great, and the motivation that ChuckStrong brings to the table all line up great for merchandise sales," said Dave Moroknek, CEO of MainGate, the Indianapolis firm that handles Colts merchandise sales. 
Moroknek noted that Colts merchandise is also selling strong outside the market. No. 12 Andrew Luck jerseys rank sixth in the NFL and eighth among all professional athletes, said sports business experts.
"Anytime you have a team perform better on the field, it will help drive sales," Moroknek said. "But the Colts have so much more going for them." 
He said Colts Coach Chuck Pagano's battle with leukemia has been a key factor, giving rise to a line of ChuckStrong items. A portion of the proceeds from those items goes to the Indiana University Health Simon Cancer Center.
But ticket sales are still king.
Prices for club seats—between the 25-yard lines—this year range from $232 to $283 per seat per game. Those who took advantage of early renewal are guaranteed no price increase for the first two years of their three-year contract.
Ward thinks it will be easy to find buyers for the club seats that aren't renewed. The waiting list is at 1,500. Club-seat renewals will reopen soon after this season—as will renewals for regular-season tickets. The deadline for those renewals is March 1.
Prices for regular-season tickets have not yet been set, but team officials are in a strong position entering the renewal period.
Several hundred names have been added to the season-ticket waiting list, which is near 8,000 after having been cut in half following last year's 2-14 record.
Team officials have high expectations that season-ticket renewal will eclipse last year's 87 percent, which was a six-percentage-point drop from 2010-2011 and the first time in several years it slipped below 90 percent.
Before the recent turnaround, many fans were miffed at Colts owner Jim Irsay for wholesale roster changes, including the release of iconic quarterback Peyton Manning.
"Last year, I heard a lot of people say they weren't coming back," said season-ticket holder David Harding, CEO of locally based HardingPoorman Group, who has two club seats. "That attitude bled into this year. But that's all gone now. Last game was louder than I've ever heard it at a home game."•
Please enable JavaScript to view this content.