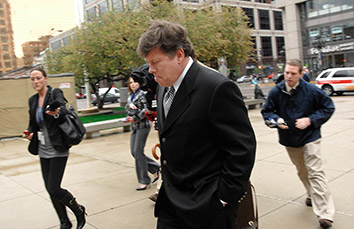 Tim Durham officially has filed to appeal his conviction on fraud charges after being sentenced to 50 years in prison in late November.
Durham had 14 days to file for the appeal following the sentencing. The appeals notice appeared Monday morning on the electronic docket of the U.S. District Court in Indianapolis.
The 71-page notice does not list an argument for appeal. Durham's lawyer, John Tompkins, did not immediately return phone calls from IBJ.
The appeal will be heard by the Seventh Circuit Court of Appeals in Chicago.
Durham, 50, likely will spend the rest of his life behind bars after federal Judge Jane Magnus-Stinson sentenced Durham to 50 years for defrauding Ohio investors of $250 million.
A federal jury in June found Durham guilty on all 12 felony fraud charges stemming from the collapse of Fair Finance Co. in Akron, Ohio. Durham co-owned the firm with Jim Cochran, who received 25 years. Rick Snow, the company's chief financial officer, received a 10-year sentence.
Cochran's lawyer, Joseph Cleary, told IBJ Monday morning that his client also has appealed his conviction, and the notice should appear on the federal docket soon. Rick Snow's lawyer could not be reached for comment.
Please enable JavaScript to view this content.