Chrysler Group LLC is betting on huge sales gains to justify the more than $374 million it is considering investing in Kokomo and Tipton to make a new line of nine-speed transmissions.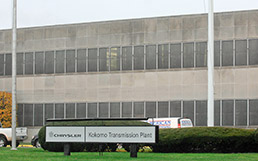 Chrysler Group LLC's Kokomo Transmission Plant is one of four in the city that has benefited from more than $1 billion in the company's investments since 2010. (IBJ file photo)
Analysts say the company needs to spend the money, even if its market hasn't fully recovered since the recession, because previous management went too long without product investments, and now the company has to catch up to competitors.
Chrysler's U.S. vehicle sales, at 1.5 million through the first 11 months of the year, are 25 percent below where they were five years ago. But Chrysler's growth has outpaced the industry as a whole as the automaker recovers from the near-death experience in 2008 and 2009 that forced it to cut back.
Executives of Auburn Hills, Mich.-based Chrysler say the new sales boom has maxed out production at its four existing Kokomo factories, all of which shrank their payrolls and adopted leaner production processes during the slump.
That is why Chrysler, which is majority-owned by Fiat SpA in Turin, Italy, is mulling the $374 million expansion, which would add 1,250 or more jobs in north-central Indiana.
The automaker already employs more than 5,000 at its three transmission plants and one casting plant in Kokomo—a huge presence that supports more than 187 suppliers in Indiana.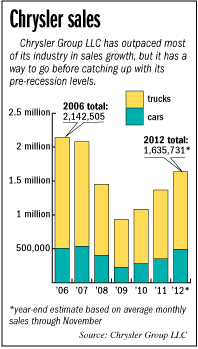 The expansion would stack onto $1.3 billion the company has spent in Indiana since 2010 on the launch of more-fuel-efficient eight-speed and nine-speed transmissions.
The latest investments reflect an even more aggressive bet by Chrysler that sales of vehicles equipped with those transmissions will take off.
Chrysler on Dec. 17 revealed that it is considering a $212 million expansion in Kokomo that would add 400 jobs and a $162 million investment in a never-used Tipton County factory that would employ 850 people.
The company has not gone into further details, saying it is still negotiating building purchases, among other vital steps.
"At the appropriate time, we will share our plans for making this region the largest transmission installation in the world," Chrysler said in a prepared statement.
Kim Hill, the associate director of research for the Center for Automotive Research in Ann Arbor, Mich., summed up the company's strategy as, "One word: optimism."
"Chrysler's certainly been getting some hefty sales increases," Hill said. "Surprisingly, we think the Detroit Three automakers, three years out, don't have enough [production] capacity right now if demand keeps going where it's going."
Chrysler's U.S. sales have surged 22 percent year-over-year, outpacing the industry's 14-percent growth.
The only automakers with bigger increases this year are Toyota Motor Sales, American Honda Motor Co. and Subaru of America, all of which struggled with deflated sales in 2011 because of the earthquake and tsunami in Japan that shut down supply chains and stalled production.
Chrysler is on track to finish 2012 with sales that are about 700,000 vehicles above its 2009 low point but 500,000 below 2006 and 2007, when the industry went on a blitz of customer incentives to lighten inventories.
Sales for the industry are expected to top 14 million this year, though experts say they likely won't return to their 17-million peak until 2016 or 2017.
Chrysler is no exception.
Even though demand is still recovering, the automaker needs to upgrade technology after years of minimal investments, said Michael Omotoso, senior manager of global powertrains at LMC Automotive, a forecasting division of J.D. Power and Associates.
"They can move ahead in terms of technology, in terms of switching from six-speed to nine-speed automatics … but it's the [sales] numbers they need to worry about," Omotoso said. "They shouldn't expect hundreds of thousands of units' growth over the next few years."
Chrysler has been making four-, five- and six-speed transmissions in Kokomo for virtually its entire fleet. Harlow said the company will continue their production as long as customers' orders for them keep coming in.
That creates a situation where Chrysler needs to maintain older operations while finding space to make new products.
Michelle Krebs, a senior analyst for Edmunds.com, said Fiat's takeover of Chrysler has boded well for R&D spending, which was largely ignored by the previous majority owners—first Daimler AG and then Cerberus Capital Management.
Chrysler and Fiat CEO Sergio Marchionne and his executive team have looked to powertrain innovations—especially transmissions—as a critical way to meet increasing federal Corporate Average Fuel Economy, or CAFE, standards.
Under the mandate, cars and trucks have to meet certain fuel-efficiency marks based on the vehicles' sizes. The White House, in a loose interpretation of the rules, says companies' entire fleets must average 35.5 mpg by 2016 and 54.5 mpg by 2025.
Krebs said those standards will continually drive R&D industry-wide over the next decade, especially for straggler Chrysler.
"Chrysler, in particular, was so far behind," she said. "They are probably the most under the gun because they hadn't had the same investment in the past."
The company introduced eight-speed 2012 models of certain Chrysler 300s and Dodge Chargers, putting the company on par with BMW's and Audi's eight-speed vehicles.
Chrysler has been silent on which vehicles get nine-speed transmission.
Meanwhile, General Motors Co. and Ford Motor Co. are partnering on R&D for 10-speed transmissions.
Omotoso lauded Chrysler for sparing itself some R&D expense by licensing production rights from another firm that designed the new transmissions, Germany-based ZF Group.
"ZF spent the time and money as opposed to [Chrysler] having to do it from scratch," he said. "It's a short cut."
The move enabled Chrysler to expand quicker than it otherwise would have, allowing it to regain some lost ground.
Property tax abatement filings indicate a sense of urgency from the company.
Tipton County records indicate Chrysler wants to start installing equipment by June and launch production by the end of 2014 in a vacant, 800,000-square-foot factory at the corner of U.S. 31 and State Road 28.
Chrysler teamed with Getrag Transmission in 2007 to build the plant with the intention of hiring 1,200 workers to produce dual-clutch transmissions. But the partnership dissolved in 2008, leaving the plant empty.
Colorado-based startup Abound Solar Inc. in 2010 received a $400 million U.S. Department of Energy loan guarantee to expand there and hire 800 to 1,000 people. But the company announced its liquidation in June after it spent $70 million of its loan.
To get Chrysler in the building, Tipton County's board of commissioners and county council have approved a 10-year tax abatement.
Kokomo's city council did the same for Chrysler's expansion there.
Chrysler emphasized that the investments are not a done deal, but Kokomo Mayor Greg Goodnight said he was "fairly confident" the work would happen in his city.
"They've been very clear with me that there are some other moving pieces to this, some things that we're not involved in with the state and such," he said, referring to possible incentives from the Indiana Economic Development Corp.
An IEDC spokeswoman said the agency does not comment on ongoing negotiations.
IEDC reported during a board meeting Dec. 11 that it would offer an unnamed company $11.5 million in tax credits and $200,000 in work-force training grants in return for a $411 million investment and the creation of 1,400 jobs.
Commerce Secretary Dan Hasler would not comment on whether Chrysler is that unnamed company.•
Kathleen McLaughlin contributed to this report.
Please enable JavaScript to view this content.