There's been a boom in strip center regeneration around the spot where 86th Street morphs into 82nd. And while we'll get to some of the higher-profile newcomers beginning next week, I thought I'd start this month's Clearwater restaurant roundup with a visit to a mom-and-pop eatery that has quietly established itself in the area as others have come and gone.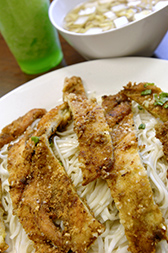 Noodles and fried chicken add heft to the Steaming Soup at Taiwan Tea House. (IBJ Photo/ Perry Reichanadter)
Taiwan Tea House (4040 E. 82nd St., 598-9733), with a nondescript storefront that could be mistaken for a retailer, makes its first impression with a tea and smoothie lineup nearly as populated as its food menu. We bypassed sodas for the Strawberry Green Tea ($2.75) with chewy boba balls (a 50-cent upgrade), an equally satisfying Mango Green Tea ($2.75), and a Honeydew Smoothie ($3.50) that reminded us how overpriced lesser versions tend to be elsewhere.
Table reaction was mixed regarding the Shrimp Chive Cake ($2.75). I found the pungent chive-packed orbs unique and flavorful. After a taste, my dining companions willingly turned over the rest of the four-piece plate to me. There was more sharing of the Edamame ($2.75), with thin, spiced pods that fell apart while the soybeans were sucked out.
Most of the lunch entrees are served with a soup of the day. On our visit, it was Tomato Tofu in a chicken broth—simple and perfectly fine, but not nearly as return-visit-inducing as the main soups. The Deep Fried Chicken w/Noodle ($6.99), for instance, offered the kind of big-bowl pleasure that makes you wish everyone at the table had ordered it, so that you could take your sweet time savoring the hot broth, thick knot of noodles, and pounded-thin chicken breast.
The Lemon Chicken ($6.99—also available with pork or shrimp) and the Asparagus Cooked with Special Sauce w/Rice ($6.99) exceeded the quality of most Chinese takeout places. Both sided with unexciting crab Rangoon, the former could have used more chicken in the broccoli/celery/carrot heavy mix (not that we've got anything against fresh-seeming veggies). The latter had the opposite problem: Menu syntax led us to believe it would feature more of the titular vegetable rather than some scattered tips that didn't dramatically affect the taste of the dish. Still, the fresh flavors made a difference.
That emphasis on freshness, combined with reasonable prices and comfortable, clean atmosphere, makes it easy to understand how the understated Taiwan Tea House seems to have built a strong local following. If the mall and chain eatery options are overwhelming, consider a peaceful stop.•
__________
First in a month-long look at Clearwater-area restaurants.
Please enable JavaScript to view this content.