Ed Bonach needn't worry that he'll land on Dartmouth professor Syd Finkelstein's annual "worst CEOs" list.
To the contrary: CNO Financial Group's stock price has nearly doubled since Bonach took the helm in October 2011.

Bonach
Some analysts that follow the successor to Conseco Inc., which a decade ago was the nation's third-largest Chapter 11 bankruptcy reorganization, now regard CNO as an attractive value play.
Bonach and his team slowly but surely are stomping out smoldering remains of Conseco's legacy business units. And they've arranged $950 million in loans and bonds to repay expensive old debt.
That's strengthened CNO's capital, liquidity and earnings.
"We're no longer CNO the project. We're now CNO a compelling value proposition," Bonach told analysts at CNO's first-ever investor day, last month.
Bonach wants the operating units of Carmel-based CNO to be the place middle-income workers and retirees come when it's time to buy life, supplemental health and other insurance products.
"That market is still vastly underserved and growing quite rapidly," Bonach told IBJ recently.
Bonach said CNO plans to spend up to $85 million in the next three years on strategic initiatives that include expanding the office locations of its Bankers Life unit.
Bankers now has more than 275 offices nationwide and over 5,600 career agents and sales managers who employ the "kitchen table" sales model to sell life, Medicare supplement, annuities and other products.
There aren't immediate plans for a new branch office in Indiana, where there are nine Bankers offices. But six potential sites have been identified for possible future branches, a company spokesman said.
Middle-income appeal
Bankers' strategy to appeal to middle-income America has been to set up offices in Class B office space, with agents who mirror the socioeconomic status of the customers they're trying to reach.
"You won't see mahogany and marble" décor in these offices, Bonach said.
CNO also seeks to improve production at Washington National, a life and health insurer, and to expand products and reach new markets at Colonial Penn. The latter employs "Jeopardy!" host Alex Trebek and elderly actors to tout "guaranteed acceptance" life policies.
One big focus will be on the Hispanic marketplace through direct-mail marketing, said Scott Perry, CNO's chief business officer.
Colonial Penn also will add new products, including $50,000 policies, which are double the protection the unit normally sells. The larger policies should appeal to a slightly younger customer base, Perry said. Working-age customers tend to be able to afford more expensive policies.
Washington National, meanwhile, will begin selling this month a new product that combines a critical-illness product with a hospital product. It's also expanding its electronic application capabilities, which should improve customer satisfaction and allow agents to get paid faster.
Retaining and attracting new agents is another goal for Bonach.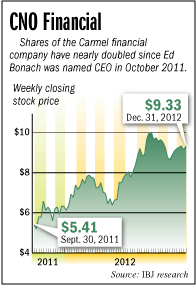 The company recently introduced a management trainee program that identifies high-potential candidates from outside the company. The goal is to get them into management ranks in 2-1/2 to three years, which is about half the time internal candidates move through.
It also plans to put 700 to 900 of its agents into a program to improve agent productivity.
Bonach also said he's been taking steps to improve customer service and policy administration. The old company had more than a dozen subsidiaries, each with its own systems in place. He rattles off a short list of executives brought in to help clean up the company's IT and other operations.
Better operating results
As for what Bonach ultimately expects from all these efforts, they include sales growth upwards of 10 percent to 12 percent (it's been 6 percent to 8 percent in recent times), and a dividend payout ratio of 20 percent of earnings.
And, he says, "we do believe by 2015 we'll be investment-grade."
In the third quarter, CNO posted a loss of $5 million on $1 billion in revenue.
That loss included a $21 million charge toward the anticipated costs of settling three lawsuits filed by customers of older CNO life insurance units that no longer market policies.
It brought to more than $41 million the reserves CNO has established in 2012 toward litigation.
CNO also was battered lately by a $176 million after-tax charge related to refinancing of debt. It also took an after-tax charge of $27.5 million based on a review of actuarial assumptions that reflect the low interest rate environment plaguing insurers.
However, the company had "solid results from operating segments," Goldman Sachs analyst Christopher Giovanni wrote in a report late last year.
Bonach, 58, former president of Allianz Life's reinsurance division, joined CNO in 2007 as executive vice president and chief financial officer. He was named CEO of CNO with the retirement of Jim Prieur. Bonach holds a degree in mathematics from St. Johns University in Collegeville, Minn.
Last month, CNO said it would spend an additional $300 million to buy back some of its outstanding stock. Through Dec. 31, it has repurchased 21.5 million shares, for an aggregate purchase price of $180.2 million.
Stock buybacks are one way to drive the price of company stock higher, but Bonach isn't counting on such maneuvers alone. He said he expects to drive results from the company's organic growth initiatives.•
Please enable JavaScript to view this content.