As it did for most fitness facilities, the recession took a bite out of the membership rolls at the National Institute for Fitness and Sport.
But NIFS has kept its revenue steady by growing its newest line of business: managing fitness facilities and wellness programming for retirement communities.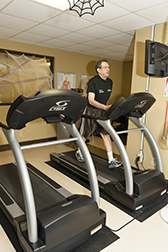 NIFS has seen 600 of its 3,400 members depart over the last five years. That represents a loss of about $300,000 annually.(IBJ Photo/ Eric Learned)
The institute, which combines medical research with an expansive fitness facility in its building on the southern edge of the IUPUI campus, has watched 600 of its 3,400 members depart over the past five years, each paying more than $500 in annual fee payments.
But over roughly the same period, NIFS has grown its retirement community business from two communities to 11, spread out over six states. NIFS pulls in $1 million in annual revenue from its senior business.
"In the last five years, almost all of our growth has been in retirement communities," said NIFS President Jerry Taylor. NIFS has annual revenue of $7 million overall—split evenly between its fitness facility and its business running fitness centers at corporate offices and retirement communities.
Even though NIFS is well-known and claims some famous members, such as Gov. Mitch Daniels, and also has staff members from the Indiana University School of Medicine, its membership has been fairly stagnant the past two decades as scores of fitness centers opened on the suburban periphery of Indianapolis.
"Years ago, we realized there's a finite capacity to what you could do in this building," Taylor said, sitting in his top-floor office in NIFS' 117,000-square-foot facility that overlooks the White River. "So we decided to go after the corporate community."
But during the recession, far fewer corporations were ready to lay out cash for new fitness centers. So NIFS looked for a third area in which to grow.
NIFS' senior sideline business started by happenstance in 2002, when Taylor ran into the chairman of the now-closed Indianapolis Senior Center, at a local car wash. Soon, NIFS began helping the Senior Center develop a fitness center and wellness program.
It was a one-off effort until 2007, when NIFS opened a similar facility for Greenwood Village South, a continuing care retirement community.
Greenwood Village is managed by Des Moines-based Life Care Services LLC, which now has hired NIFS to run fitness facilities in 10 of its retirement communities around the country. NIFS also operates a fitness center at a Del Webb housing community for seniors in the Indianapolis suburb of Fishers.
Life Care found that having the right equipment, knowledgeable staff and vibrant wellness programs was key to making its communities attractive to seniors.
"Our wellness program is a large part of our marketing and sales messaging, because it is really part of our services and programs," said Liz Bush, vice president of sales and marketing for Life Care Services. "It's what really creates value. It's a draw."
NIFS' pitch to retirement communities is twofold.
First, it offers help in choosing and arranging equipment for seniors—as opposed to the working adults who are the target of most makers of exercise equipment used in fitness centers.
For example, NIFS recommends equipment that uses hydraulic pressure to increase resistance, so seniors don't injure themselves while adjusting weights on fitness equipment.
"You can't just take your experience working with a 40-year-old and apply it to an 80-year-old," said Bethany Garrity, NIFS' director of fitness management.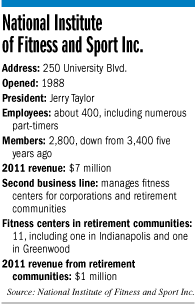 Second, NIFS puts at least one of its staff members—all of whom have degrees in a field related to exercise science—on-site at each of its fitness centers. Those employees create group fitness classes and hold information sessions on nutrition and personal training for the retirement community's members.
"Anyone can buy equipment. What sets you apart is the people you staff it with," Taylor said.
That's how Steve Still, director at the Indianapolis retirement community Marquette, sees it, too.
"When people come to look at Marquette, they're looking for a vibrant community," Still said. "And that's what the fitness does. It makes this place lively."
Marquette hired NIFS to help construct and now manage a new fitness facility it added as part of a $29 million renovation project in 2009.
At the time, Marquette was concerned competition from other high-end retirement communities was beginning to crimp its recruitment of new members.
Marquette has an average upfront buy-in cost of $167,000, which is roughly similar to the entrance fees for Robin Run Village, Hoosier Village and The Stratford at West Clay.
Occupancy in Marquette's apartments, cottages and assisted-living units has always been healthy. But there are signs it has improved since the renovation and expansion of its fitness center.
For example, occupancy in Marquette's cottages dipped from 98 percent in 2009 to 89 percent the next year. But it had risen back to 93 percent as of March 2012.
In addition, Marquette has seen occupancy in its skilled nursing beds rise from 78 percent in 2009 to 84 percent this year.
Marquette's Still, pointing to a balance machine installed in Marquette's fitness center, said he appreciates having NIFS' expertise on wellness and fitness. Marquette's fitness director, who is at Marquette full time, is actually an employee of NIFS.
"We're not fitness experts," Still said. "So we really count on them to create a program that our residents value."•
Please enable JavaScript to view this content.