Laura Beatus and her husband, Corey, didn't know anything about running a company when they started hauling their portable juice bar to music festivals in and around New York City in 2008.
Now, Natural Born Juicers has a permanent home at Indianapolis City Market and the Beatuses have their first business loan—$19,000 they used to buy cutting-edge equipment that's already boosted their bottom line.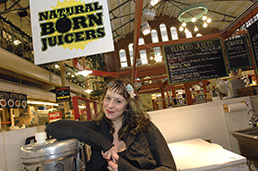 Laura Beatus has a passion for juicing, not business. (IBJ photo/Perry Reichanadter)
"I think it's a game changer for the industry," Laura Beatus, 37, said of the new machine that extracts juice from fruits and vegetables while preserving its nutritional value. Developed in California, the juice press is so advanced that Beatus uses it after hours, away from the prying eyes of potential competitors.
The press arrived this fall, streamlining the time-consuming juice-making process enough that Beatus was comfortable advertising for the first time in her two years at the market. Sales soared almost immediately.
"It's pretty amazing," Beatus said of her company's progress, sharing credit with the Anderson-based Flagship Enterprise Center, which provided the necessary financing and hands-on training through its involvement with the U.S. Small Business Administration's Microloan Program.
Flagship, a not-for-profit business incubator formed through a partnership between the city of Anderson and Anderson University, is one of just three certified SBA microloan intermediaries in the state.
Any lender can make the small, short-term loans, but the SBA program provides federal grants to not-for-profits that offer business coaching along with the financing.
Although the initiative dates back decades, Indiana has been slow to embrace microloans. In 2012, SBA intermediaries in the state made 23 of the small loans, more than the four prior years combined. Flagship handled 17 of them.
Program manager Adam Hoeksema expects 2013 to be even busier.
"I'm certain we can do a lot more," he said. "I talk to someone about microloans almost every day."
Indeed, there's little doubt that early-stage and growing businesses need an alternative to bank financing. Traditional lenders typically prefer working with more-established borrowers looking for bigger—and more profitable—loans.
Microlenders can help entrepreneurs get to that point, providing business training as well as up to $50,000 in cash.
"The whole idea is to help the smallest and youngest businesses get the kind of technical assistance they need to survive," said Gail Gesell, director of the SBA's Indiana district.
Regular, hands-on guidance also gives the lender peace of mind, she said, along with the opportunity to spot potential problems before they develop. By the time a microloan is repaid, the borrower should have the business experience and credit history necessary to seek traditional financing.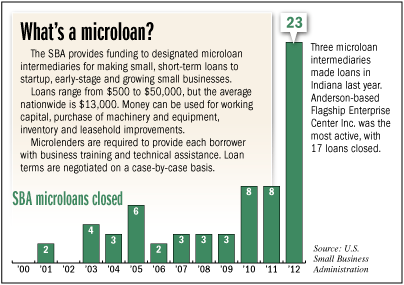 "Most banks won't spend a lot of time with a business plan, looking at someone's personal credit," said Jean Wojtowicz, president of Indianapolis-based Cambridge Capital Management Corp. "It takes as much time and effort to book, monitor and get a small loan repaid as it does a large loan, and they need to make a reasonable return."
Which is why microloan programs tend to be housed at mission-oriented organizations like Flagship, which already have expertise advising entrepreneurs.
"We don't just make a loan and say, 'Good luck,'" Hoeksema said.
He gave Natural Born Juicers' Beatus a bookkeeping tutorial, for example, and she ultimately hired Flagship to handle the company's books for a small fee.
"They're invested in us," Beatus said. "It's amazing to have that kind of support."
Indianapolis-based Business Ownership Initiative, which isn't part of the SBA program, launched its private $155,000 microloan fund in September after about 15 years of providing workshops and one-on-one counseling. The addition led BOI to refine its coaching strategy.
"There's great clarity in the process of applying for a microloan," explained Executive Director Julie Grice. "So our point of triage came down to two key questions: Is there a marketplace for my product, and how many clients do I need to make money? That is the basis of the strategic plan, the hiring plan, the marketing plan—everything. You can have the greatest idea in the world, but until you know where your cash is coming from, it's not a business.
"That's entirely what we're coaching around now."
BOI has made eight loans so far with the help of grants from the Glick Fund, Indiana Housing and Community Development Authority and the city of Indianapolis. Grice expects to apply for the SBA microloan program next month, potentially increasing the pool of funding available to local entrepreneurs.
"There is definitely a need," she said. "More and more people, whether they're hard-wired for it or not, are finding themselves needing to create their own source of income. And the banking environment often cannot address their needs."
Case in point: A commercial painter who had landed a $3,000 project came to BOI looking for $1,000 to hire help and buy supplies. The loan committee asked for the title to his truck as collateral, Grice said, and he signed on the dotted line.
Before his first payment was due, the painter was back with cash to repay the loan. And he had a new request.
"He wanted his title back and another $4,000 to handle another, larger contract," Grice said. "That's how we want this process to work."
Flagship takes a similar approach, making small loans initially and encouraging borrowers to ask for more later if they need it. It worked well for Tyler's Tree Service LLC of Indianapolis.
Brother-and-sister team Tyler Allison and Nan Schulze launched the Indianapolis-based firm in 2010, using a $10,000 loan to supplement the $25,000 they scraped together from other sources.
Revenue exceeded expectations in both 2011 and 2012, and last spring the partners applied for another $10,000 to buy a material handler. They found conventional financing for a heavy-duty pickup truck and snowplow they added in the fall.
"That's their goal," Schulze said of Flagship. "They want us to find other sources of funding."
Since becoming a microloan intermediary in 2010, Flagship has approved 31 loans worth a total of $345,000. Six notes already have been repaid, half of them ahead of schedule.
Program growth has been intentionally slow, Hoeksema said, but now he's ready to tout its success. By the end of 2013, he'd like Flagship's outstanding loan balance to be closer to the $620,000 it has available to lend each year.
"We have a lot of capacity to fill," he said. "And at $10,000 a pop, that's a lot of loans."•
Please enable JavaScript to view this content.