The Indianapolis Symphony Orchestra has raised barely half the $5 million the organization says it needs by Feb. 3 to live up to the terms of a contract it negotiated with musicians last fall.

Musicians have been working under a bridge agreement since a five-week lockout ended in October. The parties agreed that a new, five-year contract would kick in if the symphony reached the ambitious fundraising target—which is almost as much as it typically raises in a full year—during a three-month fundraising blitz.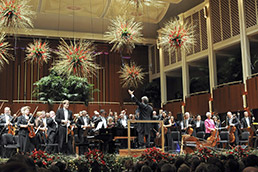 The Indianapolis Symphony Orchestra has less than a month to raise $2.6 million.(IBJ file photo)
The campaign reached $2.6 million as of Jan. 8, thanks to a handful of major gifts and smaller donations collected during the holiday season.

The symphony continues to process hundreds of additional contributions, and the organization has not included a $500,000 matching donation in the total.

"We're halfway there, and we're going to need a lot of hard effort to get there," said Martha Lamkin, president of the ISO board.

She expressed confidence the symphony would reach the goal, but said much work remains to be done as the board simultaneously leads the campaign and continues its search for a new CEO.

Negotiators face the possibility of returning to contract discussions if the ISO misses the goal.

However, an amendment to the bridge agreement allows ISO executives to lower the goal if they don't think they will make it but are comfortable where they are, said Rick Graef, lead negotiator for the American Federation of Musicians Local 3 union, which represents more than 70 ISO musicians.

"They reserve the right to basically call off that dollar amount cap," Graef said. "They can say $3 million is enough, $4 million is enough."

The lockout began in early September after previous contracts expired and ISO officials told the union they couldn't afford to continue paying musicians at their current rates.

The new, long-term agreement calls for cutting starting pay from $78,000 a year to $53,000, then gradually restoring it to $70,000 by 2017. It would achieve that savings largely by reducing the orchestra's performances from about 45 weeks a year to between 38 and 42 weeks and using lower-cost, outside performers for the remaining shows.

The cuts, which amounted to $11.5 million in concessions from musicians, were in response to years of operating deficits.

The symphony lost $900,000 in the fiscal year that ended in August, down from a $1.7 million deficit the year before. The ISO was able to shrink the deficit largely because it drew 13 percent—almost triple what experts say it should have—from its endowment.

To lift pressure from the endowment, the organization plans to ramp up annual fundraising, which usually nets about $6.5 million a year. By 2017, the ISO wants that amount to be $12.6 million.

The $5 million fundraiser is intended to spark the effort.

Usually, not-for-profits quietly line up major donations—often as much as half the goal—to build momentum before publicly unveiling campaigns, said Robert Swaney, an Indianapolis consultant who specializes in fundraising at arts organizations.

As close to the end as the ISO is, organizations normally would be lining up the last of the major gifts they need to hit their targets.

The narrow, three-month window is unlike any campaign Swaney said he's seen.

"This thing is a very tight, very compressed effort that didn't have momentum going into it," said Swaney, who runs Robert Swaney Consulting LLC. "So normal rules don't apply."

The ISO says it is focusing on new donors to broaden its base of financial support, a strategy aimed at positioning it to achieve more ambitious, future fundraising targets.

But, realistically, this campaign has to rely on a small number of major donors, Swaney said.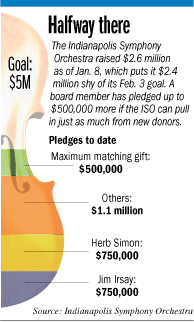 Indianapolis Colts owner Jim Irsay and Indiana Pacers owner Herb Simon, who previously co-chaired an unsuccessful $100 million capital campaign, each committed $750,000 to the new effort.

And ISO board member Yvonne Shaheen has promised up to $500,000 if new donors can match the amount.

Board members, managers and musicians have been tapping their contacts in an effort to raise large donations. The symphony has used broader outreach efforts, including an advertising campaign, to round up smaller gifts from new contributors.

A more aggressive advertising push began in November after competing noise from state and national elections subsided.

An ad-hoc management team has been leading the charge.

Interim CEO Jackie Groth has spearheaded the effort while continuing her responsibilities as chief financial officer. Groth took the interim role after previous CEO Simon Crookall abruptly resigned in early 2012.

The ISO also is without a permanent vice president of development—the top fundraising position. Gary Hawkins, a corporate vice president for consulting firm Community Counseling Services, is handling those duties temporarily.

Lamkin said the ISO is close to naming a new CEO, but she declined to go into specifics.

"That work has gone steadily ahead," she said, but the fundraising campaign has been the highest priority.

ISO leaders seem confident they're on track to raise the $5 million, said Graef, a French horn player.

"I hope we make it to the $5 million. I hope they have more money up their sleeve," he said. "If we don't make it, I have a feeling they don't want to go back to locking us out."

Swaney said a decision to lower the fundraising goal, while preventing the collapse of a collective bargaining agreement, would hurt the ISO.

Donors—especially the new ones the ISO is seeking—would lose their confidence in the organization as a financial steward of their money.

"To be as public as they were and advertise it in the way they advertise it, then to come back and say, 'We didn't hit it,' that could be particularly damaging to them," he said.•